Christopher Nelson on loan pro bono to World Business Chicago…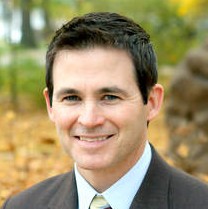 West Dundee resident Christopher Nelson, Government and Regulatory Affairs manager for Comcast, has been accepted into the inaugural class of Fellows to support implementation of Chicago's Plan for Economic Growth and Jobs, a dynamic economic development plan created to drive the 14-county Chicago metro area's growth in the global economy and articulate clear, actionable strategies for economic growth and job creation.
This month, Nelson began a full-time, three-month-long commitment working with World Business Chicago (WBC) to launch initiatives that target one of ten transformative strategies detailed in the Plan. This week, the Fellows met with Chicago Mayor and WBC Chairman Rahm Emanuel, who requested the development of the Plan last year.
"I am grateful to our business community for lending us some of their top talent to help shape Chicago's economic development," said Mayor Emanuel. "This inaugural class brings new resources and knowledge to accelerate the Plan's key economic growth initiatives, which are essential for Chicago to compete in the global economy."
"With 7,000 employees, more than 150 facilities, and millions of customers in the region, Comcast is a major player in the Chicago area economy. We are honored to be part of WBC and to work with the city and so many distinguished partners to prepare our economy for the future," said John Crowley, Comcast's regional senior vice president. "Chris is a valued employee, and as a fellow, I know he will contribute greatly to the implementation of the development plan."
The Fellows' commitments will be centered on launching WBC initiatives from PEGJ's ten transformative strategies:
Become a leading manufacturing hub
Increase attractiveness as a center for business services and headquarters
Become more competitive as a leading transportation and logistics hub
Make Chicago a premier destination for tourism and entertainment
Make Chicago a nationally leading exporter
Create demand-driven and targeted workforce development
Foster innovation in mature and emerging sectors and support entrepreneurship
Invest to create next-generation infrastructure
Develop and deploy neighborhood assets to align with regional economic growth
Create an environment in which businesses can flourish
In addition to Comcast, organizations sponsoring pro bono support in the inaugural Fellowship class include: DeVry Inc., Er Devry, Ernst nst & Young LLP, Deloitte Consulting LLP, Mesirow Financial, United Airlines, The PrivateBank, and Zurich Insurance.
"I am especially proud to represent Comcast at the WBC and to contribute to the advancement of the regional economy," said Nelson. "It was an honor to be nominated and selected to be a fellow."
Fellows will gain unique access to public and private sector networks and have the chance to greatly impact Chicago, as they work along with full-time staff within WBC, and leadership from the Civic Consulting Alliance, Metropolis Strategies and other key organizations. In turn, the city will benefit from highly-skilled talent, with the proven ability to enact significant plans and initiatives. Former director of the White House Internship Program, Melissa McNeal, leads the Fellowship Program.
The first round of Fellows was chosen after a significant application process including an essay, letter of support from current employers, three letters of recommendation, and an interview. Applications are currently being accepted for the second class of Fellows, who will start in May. For more information about the Fellowship Program, or a copy of the Plan, visit www.ChicagoGrowthAndJobs.com.
About Comcast Cable
Comcast Cable is the nation's largest video, high-speed Internet and phone provider to residential customers under the XFINITY brand and also provides these services to businesses.  Comcast has invested in technology to build an advanced network that delivers among the fastest broadband speeds, and brings customers personalized video, communications and home management offerings.  Comcast Corporation (Nasdaq: CMCSA, CMCSK) is a global media and technology company.  Visit www.comcastcorporation.com for more information.
With more than 7,000 local employees, Comcast's Greater Chicago Region serves customers in central and northern Illinois, including the Chicago area, northwest Indiana and southwest Michigan.  "Like" Comcast's Greater Chicago Region on Facebook by visiting Comcast of Illinois, NW Indiana and SW Michigan.  "Follow" Comcast's Greater Chicago Region on Twitter at @ComcastIllinois.  Become an Xfinity VIP by texting XVIPFB to 47211 and get product updates and discounts on local events.