Service available for no additional charge to Xfinity Internet customers…
Comcast announced the launch of Xfinity WiFi in the Chicago area today.  For no additional charge, Xfinity Internet customers can access more than 1,000 Chicago area Xfinity WiFi hotspots – with more coming online daily – as well as thousands in other areas of the country in places in which customers spend time working, commuting, shopping, dining and more, as well as in small- and medium-sized businesses.
"People use the Internet on the go all the time, but wireless data plans can be expensive and megabytes can add up fast," said John Crowley, Comcast's regional senior vice president.  "Now Comcast has made it possible for our Xfinity Internet customers to access high-speed Internet service via WiFi when they're on the go at no additional charge."
Crowley also noted that Millions of Xfinity customers access their favorite TV shows, movies and other content on their laptops and iOS and Android devices, and that Xfinity WiFi makes accessing that content anywhere any time even easier.  He also pointed that recent significant speed increases across most of Comcast's Xfinity residential Internet plans are examples of how the company continually adds value to its products and services – and how increased Internet access and speed enhances the value of other Xfinity services, such as Xfinity Video and Voice, as well.
XFinity WiFi expands access to broadband Internet in the City of Chicago
"On behalf of the City of Chicago, I applaud Comcast's efforts to make broadband Internet available to more Chicagoans in more places," said Chicago Mayor Rahm Emanuel.  "Xfinity WiFi fits well with the City's successful efforts to bridge the digital divide and increase economic opportunities by expanding access to high-speed Internet service."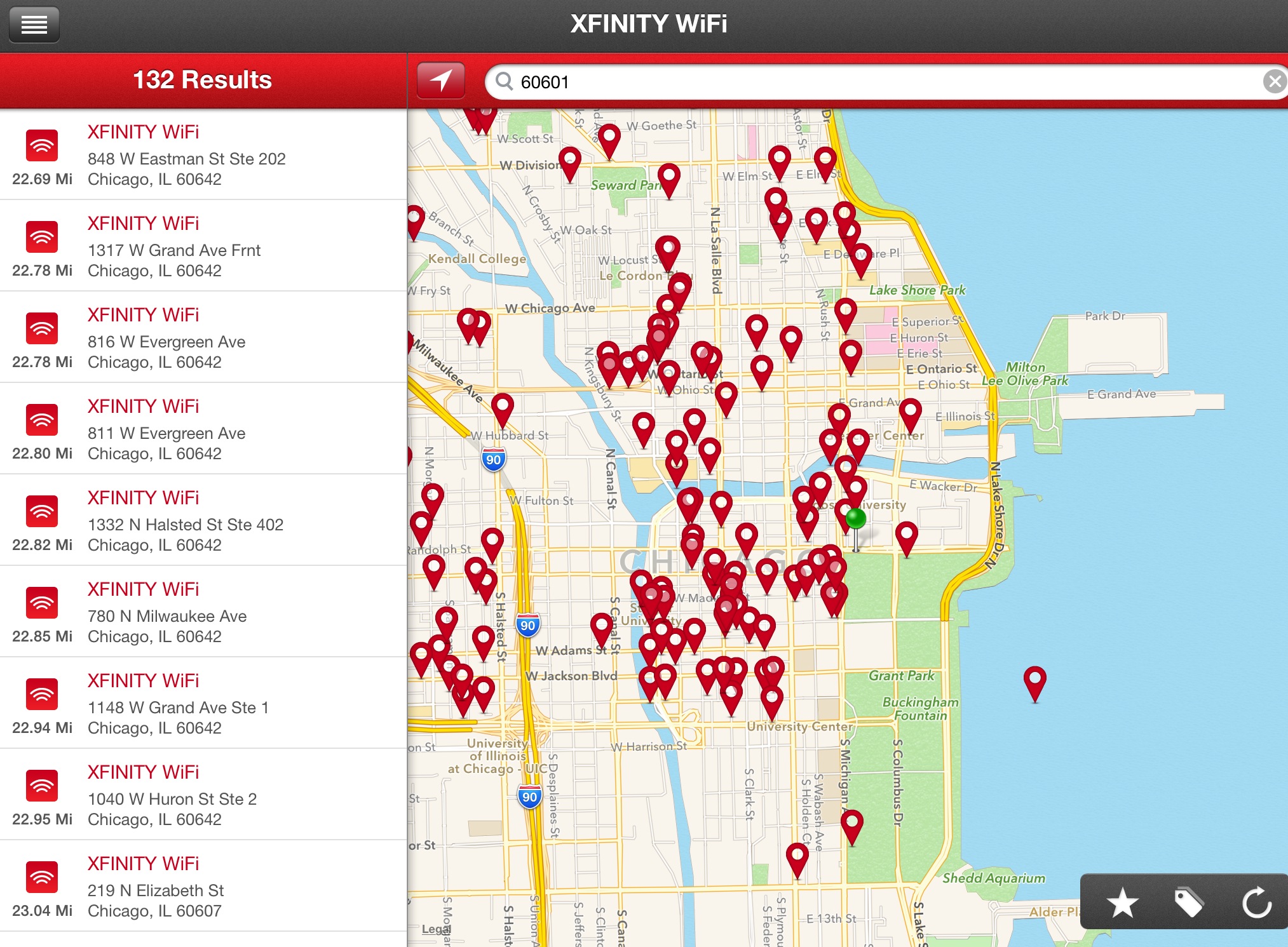 Comcast noted Mayor Emanuel's leadership on broadband expansion and adoption programs and specifically cited his role in making Chicago the number one city for enrollment in its Internet Essentials program, a low-cost broadband offering for eligible low-income families.
Comcast also noted that from Friday, May 24, through Thursday, July 4, Comcast will make its Xfinity WiFi hot spots available for free to anyone.  After July 4, non-Xfinity Internet customers can try Xfinity WiFi via two complimentary 60-minute sessions per month.
How to find Xfinity WiFi hotspots
To make it easy to find its WiFi hotspots, Comcast developed the Xfinity WiFi app, which is now available for Android and iOS devices.  The app is updated regularly with the latest hotspot locations.  Customers also can visit www.xfinity.com/WiFi to locate hotspots and learn more about Xfinity WiFi.  To access hotspots, customers should search for "xfinitywifi" or "CableWiFi" on the list of available WiFi networks on their computers and mobile devices.  Once customers login to either of these networks, they will be connected automatically the next time they are in range.
For more information, call 1-800-XFINITY or visit www.xfinity.com/WiFi.  Small and medium-sized businesses interested in installing hotspots for their customers' use can call 1-800-501-6000 or visit www.business.comcast.com.
About Comcast Cable
Comcast Cable is the nation's largest video, high-speed Internet and phone provider to residential customers under the XFINITY brand and also provides these services to businesses.  Comcast has invested in technology to build an advanced network that delivers among the fastest broadband speeds, and brings customers personalized video, communications and home management offerings.  Comcast Corporation (Nasdaq: CMCSA, CMCSK) is a global media and technology company.  Visit www.comcastcorporation.com for more information.
With more than 7,000 local employees, Comcast's Greater Chicago Region serves customers in central and northern Illinois, including the Chicago area, northwest Indiana and southwest Michigan.  "Like" Comcast's Greater Chicago Region on Facebook by visiting Comcast of Illinois, NW Indiana and SW Michigan.  "Follow" Comcast's Greater Chicago Region on Twitter at @ComcastIllinois.  Become an Xfinity VIP by texting XVIPFB to 47211 and get product updates and discounts on local events.