X1 transforms traditional cable box into an entertainment operating system – with easy-to-use navigation and search capabilities, and apps; DVR-enabled boxes allow customers to record four shows and watch a fifth at the same time…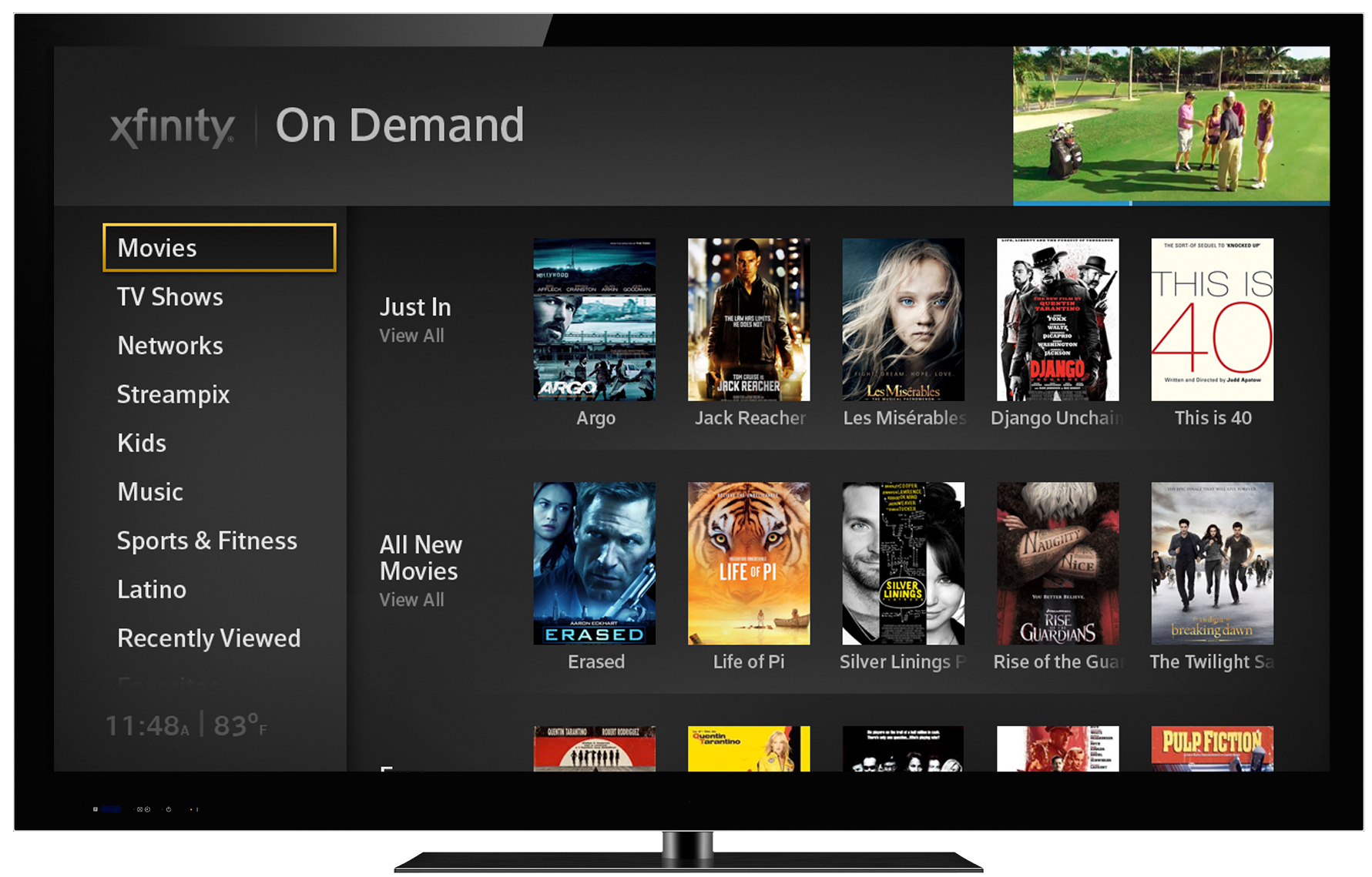 Comcast launched the X1 Platform from Xfinity today in Illinois, NW Indiana, and SW Michigan.  Using cloud-enabled technologies, the X1 Platform offers a completely new TV experience that provides access to a massive library of live and on-demand video and a new, much more graphically pleasing guide, and apps that complement the service.  In addition, DVR-enabled X1 boxes allow customers to record four shows and watch a fifth at the same time and include multi-room DVR service.
"X1 redefines the Xfinity entertainment experience, making it easier to use, smarter, richer, faster, and more personalized than ever before," said John Crowley, Comcast's regional senior vice president.  "And with X1, Comcast is essentially doubling the number of shows customers can record simultaneously yet charging the same amount we do for existing multi-room DVR service in the market." X1 features include:
A main screen with a new, easy-to-read and -search guide and interface that enables fast, one-click access to a variety of video content and allows customers to access a host of information about the programs they're watching and related programming;
The ability to search TV listings, DVR recordings, and Xfinity On Demand for content simultaneously;
In addition to the ability to record four shows and watch a fifth at the same time, the X1 DVR includes multi-room service, which lets customers watch recorded shows in any room in the house;
Weather, sports and real-time traffic apps, all specially designed and scaled for use on a TV screen (X1 DVR boxes also include Pandora and Facebook apps);
An enhanced remote control for the X1 DVR box that's highly responsive and does not have to be pointed straight at the box to work; and
The ability to display the highest resolution supported by many new TVs, 1080P at 60 frames per second.
In addition, to continually enhance the customer experience, Comcast can update X1 from the cloud using Internet Protocol (IP) and other technologies.
X1 Remote app lets customers control X1 via motions, gestures, and voice control
The new companion X1 Remote app, which is available for free for iPhones and iPod Touches via the iOS app store, lets customers use motions, gestures, and voice commands to control the X1.  So for example, customers can actually swipe their iPhones or iPod Touches to page through the interactive TV guides and program personalized short-cuts and favorites ("Quick Links"); shake their devices to pause On Demand content; and use voice commands to navigate the guide and search for content. In addition, X1 lets customers search through tens of thousands of programming choices using either their iPhones' or iPod Touches' virtual keyboards, or they can simply say into these devices, "Show me all action movies on HBO."  The app also has the ability to filter content by genre, whether it's offered in high-definition, and other criteria, as well as control the DVR and interact with X1's social media tools and apps.
http://www.youtube.com/watch?v=iAPkKgYkSO8
Watch the video above to learn more about the X1 platform.
To order X1 and for more Information
X1 is available to upgrading and new customers who order select Xfinity Triple Play packages with HD/DVR service.  For more information about the Xfinity service or the X1 platform, call 1-800-XFINITY or visit www.xfinity.com.  To view a video about X1, visit: http://xfinity.comcast.net/x1/.
About Comcast Cable
Comcast Cable is the nation's largest video, high-speed Internet and phone provider to residential customers under the XFINITY brand and also provides these services to businesses.  Comcast has invested in technology to build an advanced network that delivers among the fastest broadband speeds, and brings customers personalized video, communications and home management offerings.  Comcast Corporation (Nasdaq: CMCSA, CMCSK) is a global media and technology company.  Visit www.comcastcorporation.com for more information.
With more than 7,000 local employees, Comcast's Greater Chicago Region serves customers in central and northern Illinois, including the Chicago area, northwest Indiana and southwest Michigan.  "Like" Comcast's Greater Chicago Region on Facebook by visiting Comcast of Illinois, NW Indiana and SW Michigan.  "Follow" Comcast's Greater Chicago Region on Twitter at @ComcastIllinois.  Become an Xfinity VIP by texting XVIPFB to 47211 and get product updates and discounts on local events.