Xfinity Home Control offers a full range of home automation and energy management features…
Comcast launched Xfinity Home Control, a new home automation platform for customers who want smart solutions for monitoring their homes remotely and controlling their energy costs, today in its Greater Chicago Region (Chicago area/Northern IL, Central IL, NW Indiana, and SW Michigan).  Xfinity Home Control includes a range of "smart" features that give customers the ability to:
View and receive live and still video from their homes;
Remotely schedule and turn lights on and off;
Program, set, and adjust their thermostats;
Receive real-time alerts by text and email when doors and windows open or close, and other events; and
Monitor, access, and control Xfinity Home Control via computer, phone, or tablet remotely from www.xfinity.com/home or via Comcast's free Xfinity Home app for iOS and Android devices.
"Customers want innovative, affordable technologies that can help them monitor and manage their homes whether they're at home or away," said John Crowley, Comcast's Greater Chicago Region senior vice president. "With the launch of Xfinity Home Control, Comcast is adding yet another way customers can remotely manage their homes anywhere and at any time."
Xfinity Home Control provides smart solutions for condos and apartments that can't have external security systems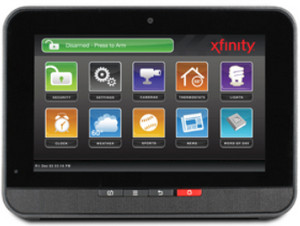 Last year, Comcast launched Xfinity Home, which also includes home security features and 24/7 monitoring, in addition to many of the home automation features offered by Xfinity Home Control.  Since then, thousands of area households have installed Xfinity Home.  However, some condominium owners and apartment dwellers were unable to take advantage of Xfinity Home's home security features, because their phone, HVAC or other systems were tied into their building's or complex's systems.  According to Crowley, Xfinity Home Control is a great option for those who can't take advantage of Xfinity Home's security features, including 24/7 professional monitoring, but still want to monitor and manage their homes remotely.
Potential to save money on energy bills
Today, Comcast also launched EcoSaver in the region.  EcoSaver is a new cloud-based program that can help customers reduce their energy use year round and save on their utility bills.  Paired with the Xfinity Home thermostat, EcoSaver actually "learns" each home's unique heating and cooling patterns and makes automatic, incremental adjustments to the thermostat based on real-time weather data, the thermal characteristics of the house, and the homeowners' temperature preferences.  Over time, the system adapts to homeowners' input and helps reduce energy consumption, all while keeping the temperature comfortable.
Control lights/bulbs when away, too
Comcast also announced an agreement to offer energy efficient light bulbs from OSRAM SYLVANIA that can customers can control remotely from anywhere via Xfinity Home.
Xfinity Home Control is available starting at only $9.95 per month.  The Xfinity Home Control Starter Pack, monitoring equipment is available starting at $99.95.  For more information about Xfinity Home pricing, equipment and features, visit www.xfinity.com/home or call 1-855-709-1196.
About Comcast Cable
Comcast Cable is the nation's largest video, high-speed Internet and phone provider to residential customers under the XFINITY brand and also provides these services to businesses.  Comcast has invested in technology to build an advanced network that delivers among the fastest broadband speeds, and brings customers personalized video, communications and home management offerings.  Comcast Corporation (Nasdaq: CMCSA, CMCSK) is a global media and technology company.  Visit www.comcastcorporation.com for more information.
With more than 7,000 local employees, Comcast's Greater Chicago Region serves customers in central and northern Illinois, including the Chicago area, northwest Indiana and southwest Michigan.  "Like" Comcast's Greater Chicago Region on Facebook by visiting Comcast of Illinois, NW Indiana and SW Michigan.  "Follow" Comcast's Greater Chicago Region on Twitter at @ComcastIllinois.  Become an Xfinity VIP by texting XVIPFB to 47211 and get product updates and discounts on local events.