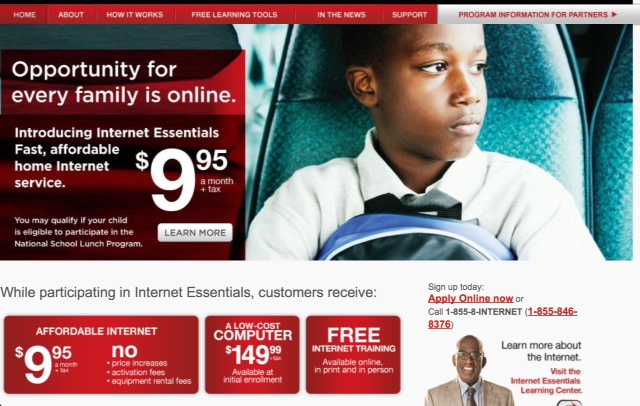 It's another exciting weekend of Back-to-School (BTS) events, although it's a Saturday and a sixth day of work for me.  I'm looking forward to sharing information about the Internet Essentials program from Comcast.   I enjoy the feeling I get from helping to better our community and providing information that I know will enrich the lives of so many families.
This weekend I attended the Westside Music Festival/Chicago 24th Ward Alderman Michael D. Chandler's BTS picnic in Douglas Park on the West side of Chicago.  Some say it's the best side, but that's usually people who live on the West side (I love community pride!).   Anyway, my day started out at 11 a.m., as I began to set up my table with Internet Essentials materials (flyers, pens, coloring books and bags).  I noticed a few curious glances from kids and parents.  Slowly a few people worked up the courage to come by.  The first question I always get is "what do I need to do to get a bag" and I respond "not much, just allow me to share some valuable information with you."
In turn, my first question to them is do you have internet service at home?  Regrettably, the answer is usually no.  As I start to share all the reasons why the internet is so important, I can tell that they think I'm selling a product that may be out of reach – their eyes become glazed over, and they want me to hurry up and just give them a bag or pen; or they're just waiting for me to drop the cost on them.  When I tell them the price is only $9.95 a month, at first they think that's just a promotional price.  So I save the best for last and tell them "and your child can carry that rate until he or she graduates from high school."  Their eyes perk up, a smile flashes across their face, and I know I have their attention!  They also like hearing that they can get a computer through the program for about $150.
What I've learned is that most of the families I talk with that don't have Internet service really do want it but believe they simply can't afford it.  Once I tell them that the price won't change, they immediately start to ask questions about how they can sign up or if they can sign up with me on the spot.  I met one woman on Saturday that was so grateful for the information that she wanted to sign up on the spot.   We didn't before, but now people can apply online on a computer, a tablet or even a smart phone.
It's not just festival goers that want to sign up for Internet Essentials.  I'm approached by employees of other vendors at the festivals, police officers and park district employees.
I've also come across people who already are Internet Essentials customers.  I met customer this summer at Chicago 37th Ward Alderman Emma Mitts' BTS Gospel Festival and Picnic, which coincidentally was also located on the West side at LaFollette Park.  The customer saw a commercial for Internet Essentials last year and called our regular customer service number to inquire.  They gave her the customer service number for Internet Essentials and her service was installed in September or October of last year.  She said she did not have a computer when she signed up and unfortunately could not afford the netbook that's offered for $150 through the program.  So a family member gave her a computer.
The customer has a 10 year old son in fifth grade.  He uses the internet to do research for reports, and to help with his math and reading.  She added that at the time she was unemployed but using the at home broadband connection through Internet Essentials to land a job, and she started working on August 16 at an alternative school that's about two hours from her home.  Although she has to travel far for work, she is very happy to have a job and is enjoying it.  She has told all her friends about the Internet Essentials.
So you can see why I enjoy talking about this program and spreading the word.  It is literally helping to change the lives of families in communities where I have lived and worked and where the need is so great.
For more information about Internet Essentials, call 1-855-8INTERNET (1-855-846-8376) or visit www.internetessentials.com.  For information in Spanish, call 1-855-SOLO-995 (1-855-765-6995) or visit www.internetbasico.com.