Polo customers now have access to the Xfinity "Quad Play," which includes Video, High-Speed Internet and Xfinity Home, in addition to Voice service…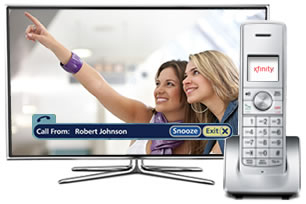 With the introduction of Xfinity Voice Home Phone Service in Polo, IL, local customers now have the option to purchase the Xfinity "Quad Play," which includes Xfinity Voice plus Xfinity Video, Xfinity Internet service and Xfinity Home, a complete home security and home control solution.
"The Quad Play is a great value and offers significant savings over buying services separately from multiple providers," said John Crowley, Comcast's Greater Chicago Region senior vice president.  "Plus, when purchased together, Xfinity Video, Internet, Voice and Home build on and add features to one another that wouldn't be available if customers only purchased one of our services."
Features of Xfinity Voice alone include:
Unlimited nationwide calling;
Call waiting;
Caller ID;
Call screening;
Call forwarding;
Three-way calling;
Repeat dialing;
Speed dial;
Caller ID blocking; and
Voicemail.
When Xfinity Voice is purchased as part of the Quad Play, customers get a host of additional features, including the ability to:
See who's calling on their TV screens;
Listen to messages right on their TVs using the Voicemail app on the new X1 cable box;
Access all of their Xfinity emails, voice mails, texts and other communications at www.xfinity.comcast.net or via the Xfinity Connect app, a free download for Android and iOS devices;
Assign "virtual" phone numbers to up to four additional family members for their personal use, and make and receive calls using the Voice2Go feature of the Xfinity Connect app;
Text directly to friends and family across the U.S. and in a host of foreign countries from home or virtual numbers using the Xfinity Connect app;
Receive transcripts of voice messages via email;
Xfinity Home customers with Xfinity Voice can listen to their voice mails on their Xfinity Home touchscreens;
Use Voice2Go on an iPod Touch or iPad to make and receive calls to and from their home and virtual numbers over WiFi;
Using Voice2Go, make and receive calls to and from their home or virtual numbers via one of the nearly 280,000 Xfinity WiFi or Cable WiFi hotspots in locations in several cities across the country; and
Save money by reducing their wireless usage and text charges.
"Xfinity's Quad Play services integrate to make for an awesome experience that customers can take with them on the go and access anytime, anywhere," Crowley said.
For more information, customers can call 1-800-COMCAST (1-800-266-2278) or visit www.xfinity.com.
About Comcast Cable
Comcast Cable is the nation's largest video, high-speed Internet and phone provider to residential customers under the XFINITY brand and also provides these services to businesses.  Comcast has invested in technology to build an advanced network that delivers among the fastest broadband speeds, and brings customers personalized video, communications and home management offerings.  Comcast Corporation (Nasdaq: CMCSA, CMCSK) is a global media and technology company.  Visit www.comcastcorporation.com for more information.
With more than 7,000 local employees, Comcast's Greater Chicago Region (chicago.comcast.com) serves customers in central and northern Illinois, including the Chicago area, northwest Indiana and southwest Michigan.  "Like" Comcast's Greater Chicago Region by visiting Comcast of Illinois, NW Indiana and SW Michigan.  "Follow" Comcast's Greater Chicago Region on Twitter at @ComcastIllinois.  Text XVIPFB to 47211 to become an Xfinity VIP and receive texts about Xfinity services and discounts on local events.