Comcast Business High-Speed Data, Voice and Video service power innovation and help Chicago-area small businesses compete and grow…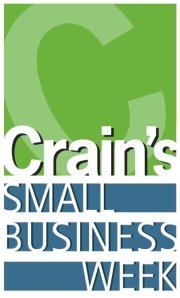 Comcast is presenting sponsor of "Crain's Small Business Week" in the Chicago area from Monday, Sept. 30 through Friday, Oct. 4.  Small Business Week is designed to help small businesses by providing them opportunities to meet suppliers that can help them grow; network with more than 3,000 other small business owners and entrepreneurs; participate in dozens of "hot topics" sessions; and get new ideas about ways to increase their success.  Information about Small Business Week is located at www.ChicagoBusiness.com/SBW.
"Comcast Business is committed to helping small businesses compete, thrive and grow in Chicago and across the country," said Jay Dirkmaat, vice president of Business Services in Comcast's Greater Chicago Region.  "Our goal is to work with businesses and other private and public entities to drive innovation that will help our local economy compete in the future."
To this end, Comcast's hope is to meet as many local business owners as possible during Small Business Week and learn more about their current and future technology needs, Dirkmaat added.
In addition, Comcast Business is co-sponsoring "Crain's Small Business Forum: Entrepreneurs in Action" on Tuesday, October 1, from 7:30 to 10 a.m. at the Mid-America Club at 200 E. Randolph in Chicago.  Comcast Business also will have a booth and information on site at the "Small Business Entrepreneurs Expo" on Friday, October 4, from 8:30 a.m. to 3:30 p.m. at the UIC Forum at 725 W. Roosevelt in Chicago.
About Comcast Business
Comcast Business provides advanced communication solutions to help organizations of all sizes meet their business objectives.  Through a modern, advanced network backed by 24/7 technical support, Comcast delivers Business Internet, TV and Voice services for cost-effective, simplified communications management.
The Comcast Business Ethernet suite offers high-performance point-to-point and multi-point Ethernet

services with the capacity to deliver cloud computing, software-as-a-service, business continuity/disaster recovery and other bandwidth-intensive applications. Comcast Ethernet services are significantly faster than standard T1 lines and other legacy technologies, providing scalable bandwidth from 1 Mbps up to 10 Gigabits-per-second (Gbps) in more than 20 major US markets.
For more information, call 866-429-3085 or visit http://business.comcast.com/enterprise.
Follow us on Twitter @ComcastBusiness and on other social media networks at http://business.comcast.com/social.
About Comcast Cable
Comcast Cable is the nation's largest video, high-speed Internet and phone provider to residential customers under the XFINITY brand and also provides these services to businesses.  Comcast has invested in technology to build an advanced network that delivers among the fastest broadband speeds, and brings customers personalized video, communications and home management offerings.  Comcast Corporation (Nasdaq: CMCSA, CMCSK) is a global media and technology company.  Visit www.comcastcorporation.com for more information.
With more than 7,000 local employees, Comcast's Greater Chicago Region serves customers in central and northern Illinois, including the Chicago area, northwest Indiana and southwest Michigan.  "Like" Comcast's Greater Chicago Region by visiting Comcast of Illinois, NW Indiana and SW Michigan.  "Follow" Comcast's Greater Chicago Region on Twitter at @ComcastIllinois.  Text XVIPFB to 47211 to become an Xfinity VIP and receive texts about Xfinity services and discounts on local events.