Comcast committed to hiring 1,000 more vets across the company by 2015…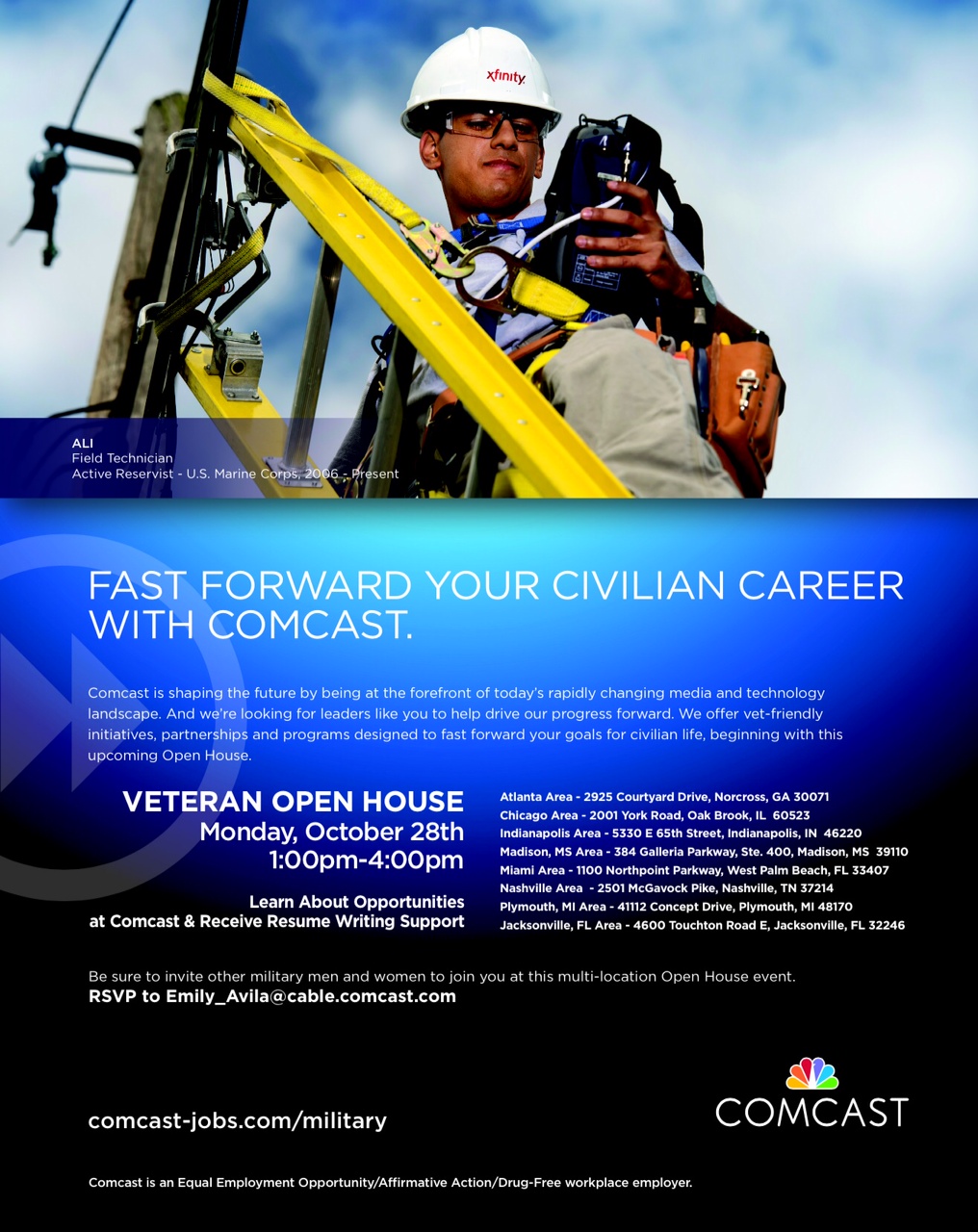 Comcast today hosted an open house and job fair for military veterans at its Oak Brook, IL, offices, located at 2001 York Rd.  At the open house, Comcast provided veterans information about career opportunities at the company and helped link them to positions that are currently open.
"Comcast has hired a number of talented veterans over the last couple of years, and we look forward to hiring more to fill some of the positions currently open in the region," said John Crowley, Comcast's Greater Chicago Region senior vice president.  "Veterans have the kinds of experience Comcast values, ranging from strong leadership skills to extensive experience laying cable and working with technology."
Comcast is a participant in the U.S. Chamber of Commerce Foundation's "Hiring Our Heroes" program and in 2011 committed to hiring 1,000 veterans by 2015.  Comcast hired 1,000 veterans by 2013, achieving its goal two years early.  Subsequently, Comcast committed to hiring another 1,000 by 2015.  To this end, Comcast is hosting open houses in locations across the country, in addition to the Chicago area event in Oak Brook.
"Military personnel receive extensive training, are disciplined and have strong work ethics.  As a result, veterans are extremely valuable as employees and make strong leaders, "said U.S. IL 8th District Representative Tammy Duckworth.  "I thank Comcast for recognizing all that veterans bring to the work place and for reaching out to them proactively."
"On behalf of DuPage County, I want to thank Comcast for recruiting and hiring veterans who live in the area," said DuPage County Chairman Dan Cronin.  "These men and women have given so much to our country and deserve our support and assistance in gaining employment when they return from duty."
Comcast NBC Universal PSA on company efforts to hire veterans 
For information about the open house or the initiative in general, email emily_avila@cable.comcast.com, visit www.comcast-jobs.com/military or call (215) 498-9389.
About Comcast Corporation
Comcast Corporation (Nasdaq: CMCSA, CMCSK) is a global media and technology company with two primary businesses, Comcast Cable and NBCUniversal.  Comcast Cable is the nation's largest video, high-speed Internet and phone provider to residential customers under the XFINITY brand and also provides these services to businesses.  NBCUniversal operates 30 news, entertainment and sports cable networks, the NBC and Telemundo broadcast networks, television production operations, television station groups, Universal Pictures and Universal Parks and Resorts.  Visit www.comcastcorporation.com for more information.
With more than 7,000 local employees, Comcast's Greater Chicago Region (chicago.comcast.com) serves customers in central and northern Illinois, including the Chicago area, northwest Indiana and southwest Michigan.  "Like" Comcast's Greater Chicago Region on Facebook by visiting Comcast of Illinois, NW Indiana and SW Michigan.  "Follow" Comcast's Greater Chicago Region on Twitter at @ComcastIllinois.  Become an Xfinity VIP by texting XVIPFB to 47211 and get product updates and discounts on local events.