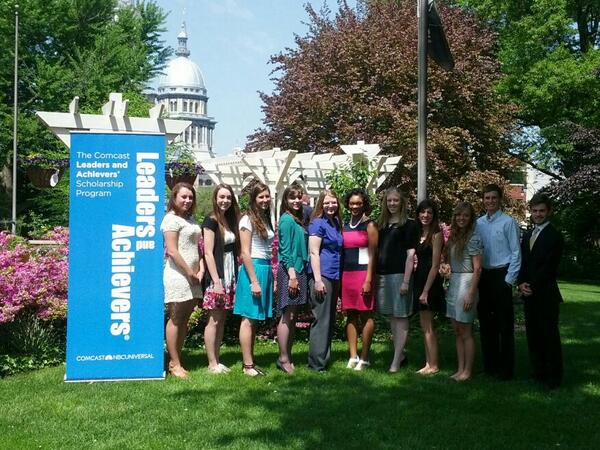 Comcast and the Comcast Foundation announced the names of the 2014 "Leaders and Achievers Scholarship" recipients from Central Illinois today (see list of recipients below).  The scholarships are awarded to high school seniors who are viewed as catalysts for positive change in their communities, have solid academic records and serve as role models for their fellow students.  The program's mission is to recognize those high school students who play an active role in and help others in their communities, motivate them to continue on their paths and encourage other students to work to improve their communities as well.  Recipients receive $1,000 grants to be used for college expenses.
"This year's Comcast Leaders and Achievers Scholarship recipients demonstrated a strong commitment to leadership in both their classrooms and their communities," said John Crowley, Comcast's Greater Chicago Region senior vice president. "Comcast is proud of the recipients and their achievements and thrilled we can provide support as they go on to college and the next phases of their lives."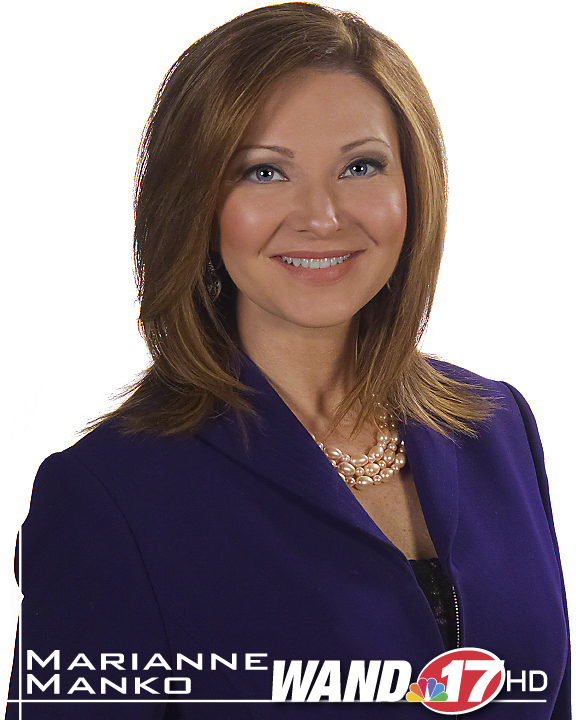 Recipients will be recognized at a ceremony hosted by Comcast at the Illinois Executive Mansion in Springfield on Wednesday, May 21.  WAND-TV news anchor Marianne Manko will serve as emcee for the event and speak to recipients and family members about the importance of helping others in their communities.
"We can't thank Marianne enough for joining us again for the Leaders and Achievers Scholarship ceremony.  Not only is she an excellent host, she's a role model for the recipients and a great example of someone who has a positive impact on and gives back to her community," Crowley said.
Recipients will be recognized at a ceremony hosted by Comcast at the Illinois Executive Mansion in Springfield on Wednesday, May 21.  Since the 2001-2002 school year, Comcast has awarded nearly $20 million in scholarships to more than 19,000 recipients across the nation.  More than 160 students in Comcast's Greater Chicago Region, which includes Illinois, northwest Indiana and southwest Michigan, will receive scholarships this year – 19 of this year's recipients are from Central Illinois.
About the Comcast Foundation
The Comcast Foundation was founded by Comcast Corporation in June 1999 to provide charitable support to qualified nonprofit organizations. The Foundation primarily invests in programs intended to have a positive, sustainable impact on their communities. The Foundation has three community investment priorities – expanding digital literacy, promoting community service and building tomorrow's leaders. Since its inception, the Comcast Foundation has donated nearly $140 million to organizations in the communities nationwide that Comcast serves. More information about the Foundation and its programs is available at www.comcast.com/community.  Click here to learn more.
About Comcast Corporation
Comcast Corporation (Nasdaq: CMCSA, CMCSK) is a global media and technology company with two primary businesses, Comcast Cable and NBCUniversal.  Comcast Cable is the nation's largest video, high-speed Internet and phone provider to residential customers under the XFINITY brand and also provides these services to businesses.  NBCUniversal operates 30 news, entertainment and sports cable networks, the NBC and Telemundo broadcast networks, television production operations, television station groups, Universal Pictures and Universal Parks and Resorts.  Visit www.comcastcorporation.com for more information.
With more than 7,000 local employees, Comcast's Greater Chicago Region (chicago.comcast.com) serves customers in central and northern Illinois, including the Chicago area, northwest Indiana and southwest Michigan.  "Like" Comcast's Greater Chicago Region on Facebook by visiting Comcast of Illinois, NW Indiana and SW Michigan.  "Follow" Comcast's Greater Chicago Region on Twitter at @ComcastIllinois.  Become an Xfinity VIP by texting XVIPFB to 47211 and get product updates and discounts on local events.
List of 2014 Central Illlinois Leaders and Achievers Scholarship Recipients (in alphabetical order by last name)
| | | |
| --- | --- | --- |
| Name | City | High School Name |
| Samah Ahmed | Champaign | University Laboratory High School |
| Emily Bone | Mt. Zion | Mt. Zion High School |
| Leslee Chambers | Champaign | Judah Christian |
| Michelle Driscoll | Urbana | Urbana High School |
| Caitlin Haisler | Peoria | Peoria Notre Dame High School |
| Rachell Hinkamper | Quincy | Quincy Notre Dame High School |
| Haleigh Hoskins | Peoria | Peoria Christian School |
| Storm Joop | Champaign | The High School of Saint Thomas More |
| Kelly Lenz | Knoxville | Knoxville High School |
| Jordan Luczaj | Mt. Pulaski | Mt. Pulaski High School |
| Rachel Mencel | Colchester | West Prairie High School |
| Madison Miller | Champaign | Central High School |
| Emma Ngati | Macomb | Macomb Senior High School |
| Sara Regan | Champaign | Centennial High School |
| Theodore Roll | Bloomington | Normal Community High School |
| Terra Scranton | Quincy | Quincy Senior High School |
| Stephanie Southey | Peoria | Richwoods High School |
| Jessica Sullivan | Washington | Washington High School |
| Shaynah Woody | Peoria | Peoria High School |