New Ultra-Fast Internet Speed Now Available for Many Residential Customers…
Comcast launched a new ultra-fast Internet tier called "Extreme 505" in the Chicago area today.  The new tier offers residential customers download speeds of up to 505 Mbps and upload speeds of up to 100 Mbps.  Extreme 505 service requires that Comcast install a fiber Internet connection to the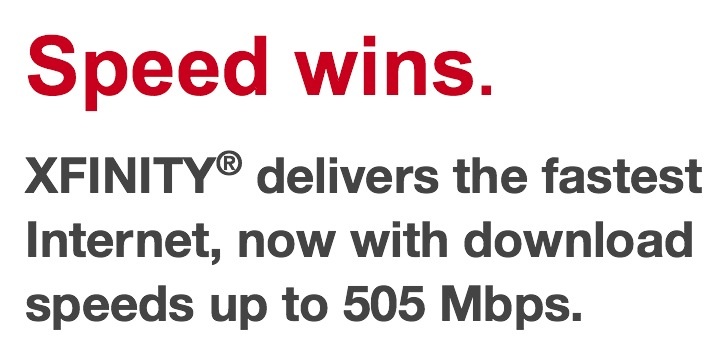 customer's home and a wireless router inside it to create a fast, efficient and secure network.
Designed for the most advanced digital homes, Extreme 505 costs $400 per month plus applicable taxes and equipment, either as a standalone service or packaged with other Xfinity services.  In addition to offering speeds of up to 505 Mbps, for no additional charge Extreme 505 customers also receive:
A dedicated Premier Care team to support service needs;
A wireless router to create a fast, efficient and secure home network; and
The Constant Guard™ Security Suite, the most comprehensive online protection services available from any major ISP for a safe and secure online experience. This includes Norton™ Security Suite, Secure Backup and Share and the IDENTITY GUARD® service.
"Comcast already provides some of the fastest residential and commercial Internet speeds in the market.  The launch of Extreme 505 demonstrates once again Comcast's commitment to pushing the envelope even further and finding ways to enhance the customer experience," said John Crowley, senior vice president of Comcast's Greater Chicago Region.  Crowley pointed out that Comcast has increased its residential Internet speeds in the market each year for the last 12 years.
For more information or to order service, call 1-800-XFINITY or visit www.xfinity.com.
About Comcast Cable
Comcast Cable is the nation's largest video, high-speed Internet and phone provider to residential customers under the XFINITY brand and also provides these services to businesses.  Headquartered in Atlanta, Comcast Cable's Central Division serves 19 million combined video, high-speed Internet and voice customers and operates in 15 states from Michigan to Florida.  Comcast has invested in technology to build an advanced network that delivers among the fastest broadband speeds, and brings customers personalized video, communications and home management offerings.  Comcast Corporation (Nasdaq: CMCSA, CMCSK) is a global media and technology company.  Visit www.comcastcorporation.com for more information.
With more than 7,000 local employees, Comcast's Greater Chicago Region (chicago.comcast.com) serves customers in central and northern Illinois, including the Chicago area, northwest Indiana and southwest Michigan.  "Like" Comcast's Greater Chicago Region on Facebook by visiting Comcast of Illinois, NW Indiana and SW Michigan.  "Follow" Comcast's Greater Chicago Region on Twitter at @ComcastIllinois.  Become an Xfinity VIP by texting XVIPFB to 47211 and get product updates and discounts on local events.