Donations from PFC Geoffrey Morris Tournament event to help feed more than 1,000 military members and families…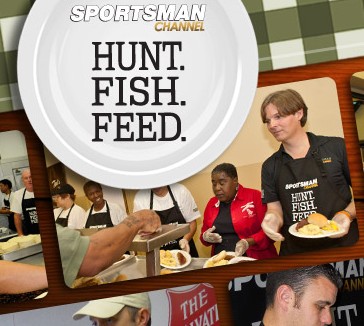 Sportsman Channel and Comcast are teaming up to host their annual Hunt.Fish.Feed. event in Chicago (Great Lakes, IL) on Wednesday, July 2, at Naval Station Great Lakes beginning at 5 p.m. CST. Sportsman Channel talent including: Melissa Bachman, host of Winchester Deadly Passion, and TV host and Executive Chef Scott Leysath will be in attendance. Leysath will pan sear and serve locally-harvested salmon to more than 1,000 Navy Base personnel and their families.
For the first time ever, this year's Hunt. Fish. Feed. Chicago event will be held at an active military base and utilize more than 400 pounds of fresh fish caught during the PFC Geoffrey Morris Tournament (June 20-22) on Lake Michigan. The event will be a part of the Naval Station Great Lakes "Navy Days Festival," which begins July 3.
"The opportunity to bring Hunt.Fish.Feed. to Naval Station Great Lakes is an honor and represents Sportsman Channel's continued support of our year-long Salute to Service initiative," said Ben Lines, vice president marketing of Sportsman Channel. "As the country prepares to celebrate July 4th, Sportsman Channel recognizes members of our military past and present, along with first responders, who fought to achieve the many blessings we enjoy today as American citizens. Sportsman is pleased to partner with Comcast Chicago, which is the leader in community service in the cable industry and a long-time supporter of Hunt.Fish.Feed."
"Comcast is thrilled to participate and partner with Sportsman Channel on this very important event," said David Williams, vice president of marketing and sales for Comcast's Greater Chicago Region. "This event not only provides food for military men and women and their families, it's a wonderful opportunity to show appreciation to members of the armed services."
The Gary Sinise Foundation also is a key supporter of Sportsman Channel's Salute to Service initiative. Salute to Service celebrates American servicemen and women and raises awareness of issues and opportunities facing veterans. Serving fresh meals to America's military is another way Sportsman Channel engages its Salute to Service.
"This program, which utilizes natural resources to feed those who serve and protect, is a perfect fit with our Foundation's Serving Heroes initiative," said Gary Sinise, Founder of the Gary Sinise Foundation.
Since its inception in 2007, Sportsman Channel's Hunt.Fish.Feed. events have prepared and fed more than 21,000 meals to less fortunate members of society. The unique outreach program taps an underutilized food source—game meat and fish donated by sportsmen and women—to feed those struggling with hunger across America.
Date and Location
Wednesday, July 2, 2014
Naval Station Great Lakes
530 Farragut Ave.
Great Lakes, IL 60088
Serving time: 5:00 p.m. – 7:00 p.m. CST
Special Guests: Scott Leysath, "The Sporting Chef", Melissa Bachman of Winchester Deadly Passion and Mike Schoby, Editor of Petersen's Hunting.
To find Sportsman Channel in your area, visit the Channel Finder: http://sportsmanchannel2.viewerlink.tv/.
Join the conversation about Hunt.Fish.Feed. online at http://facebook.com/huntfishfeed.
To help support the Geoffrey Morris Memorial Foundation go to www.gsmtournament.com.
About Sportsman Channel
Launched in 2003, Sportsman Channel/Sportsman HD is the only television and digital media company fully devoted to honoring a lifestyle that is celebrated by millions of Americans. The leader in outdoor television, Sportsman Channel delivers entertaining and informative programming that embraces outdoor adventure, hunting and fishing, and reveals it through unique, surprising and authentic storytelling. Sportsman Channel embraces the attitude of "Red, Wild & Blue America" – where the American Spirit and Great Outdoors are celebrated in equal measure. The network also is dedicated to promoting our nation's military heroes and veterans, as well as providing a voice for conservation throughout the United States. Sportsman Channel reaches more than 36 million U.S. television households.Stay connected to Sportsman Channel online at www.thesportsmanchannel.com; Facebook, (facebook.com/sportsmanchannel); Twitter (twitter.com/SPORTSMANchnl and twitter.com/SportsmanPR) and YouTube (youtube.com/TheSportsmanChannel).