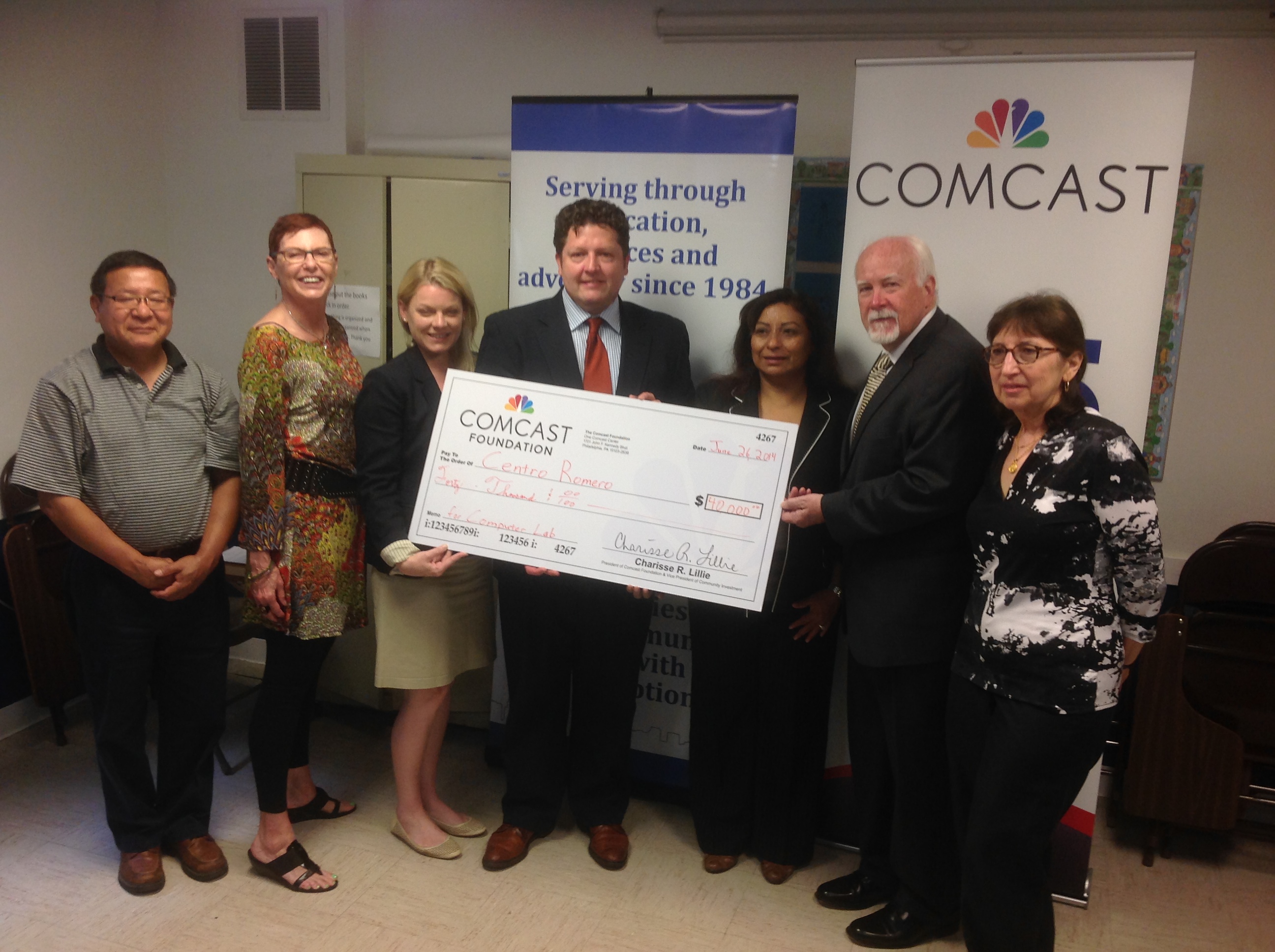 New "Internet Essentials Learning Zones" to bring community partners together to address digital divide… Comcast gives lead zone partner grants to support efforts to close the digital divide and improve digital literacy
Launched in Chicago three years ago by Comcast, Internet Essentials helps close the digital divide by providing eligible families low-cost broadband service at home for about $10 a month.  Since its inception in 2011, more Chicago families have enrolled in the program than in any other city.  This year, Comcast established a "Gold Medal Recognition Program" to recognize communities like Chicago that have large numbers of families enrolled in the program and announced that the city is among its Gold Medal designees.
"City government, community organizations like Centro Romero and others in Chicago have worked closely with Comcast to close the digital divide, and we're proud that we've achieved Gold-Medal status.  As a result of our efforts, thousands of Chicago families now have access to the Internet at home and all of its economic and academic benefits," said Chicago 40th Ward Alderman Patrick J. O'Connor.
Comcast establishes Internet Essential Learning Zone spanning several Chicago neighborhoods
As part of its commitment to increasing broadband adoption in Gold Medal and other communities, Comcast announced the creation of an "Internet Essentials Learning Zone" spanning Chicago's Edgewater, East and West Rogers Park and Uptown neighborhoods.
Within the zone, Comcast will provide:
Enhanced public Internet access, including indoor WiFi service at several community-based organizations, including Alternatives; Centro Romero; Coalition of African, Arab, Asian and Latino Immigrants of Illinois; Howard Area Community Center; and JVS Chicago.
Digital literacy training programs in community settings designed to teach parents and children how to use the Internet effectively and safely, and parents how to monitor their children's online activity and school work; and
Events designed to inform parents about Internet Essentials and how they can enroll.
"The learning zone will extend learning opportunities beyond school walls by giving students access to computers and the Internet at community- and faith-based organizations many of them already visit for after-school and other programs," said Matthew Summy, regional vice president of External and Government Affairs.
Last year, Comcast established the first learning zone in the nation in Chicago's Bronzeville, Englewood/West Englewood and North Lawndale neighborhoods, and earlier this year established zones just west of the city in suburban Cicero/Berwyn, as well as in Peoria.
Comcast gives grant to lead zone partner to foster efforts
Because of its Gold-Medal status, Comcast has committed to providing $100,000 in support to community based organizations in Chicago for activities designed to increase broadband adoption. Today, Comcast announced that it's giving lead north side zone partner Centro Romero, a social service agency located in Chicago's Edgewater neighborhood, $10,000 to support its efforts to close the digital divide.  In addition, the Comcast Foundation presented Centro Romero a check today for $30,000 to support its computer lab, which is used to teach adults basic computer skills and English as a second language, as well as job search skills, ranging from resume' writing to interview preparation.  Students use the lab for school work and seniors use it to communicate with friends and family members who live outside of Chicago.
About Internet Essentials
Internet Essentials from Comcast is the nation's largest and most comprehensive broadband adoption program.  It provides low-cost broadband service for $9.95 a month plus tax; the option to purchase an Internet-ready computer for under $150; and multiple options to access free digital literacy training in print, online, and in-person. A household is eligible to participate if it has at least one child eligible to participate in the National School Lunch Program (NSLP), is located where Comcast offers Internet service, has not subscribed to Comcast Internet service within the last 90 days, and does not have an overdue Comcast bill or unreturned equipment. Families that enroll in the program can continue to enjoy the service as long as one child eligible to participate in the NSLP is living in the household.
For more information about Internet Essentials visit InternetEssentials.com for English and InternetBasico.com for Spanish. Educators or third-parties interested in helping to spread the word can find more information at InternetEssentials.com/partner. Parents looking to enroll in the program can call 1-855-846-8376 or, for Spanish, 1-855-765-6995.
About Comcast Corporation
Comcast Corporation (Nasdaq: CMCSA, CMCSK) is a global media and technology company with two primary businesses, Comcast Cable and NBCUniversal.  Comcast Cable is the nation's largest video, high-speed Internet and phone provider to residential customers under the XFINITY brand and also provides these services to businesses.  NBCUniversal operates 30 news, entertainment and sports cable networks, the NBC and Telemundo broadcast networks, television production operations, television station groups, Universal Pictures and Universal Parks and Resorts.  Visit www.comcastcorporation.com for more information.
With more than 7,000 local employees, Comcast's Greater Chicago Region (chicago.comcast.com) serves ustomers in central and northern Illinois, including the Chicago area, northwest Indiana and southwest Michigan.  "Like" Comcast's Greater Chicago Region on Facebook by visiting Comcast of Illinois, NW Indiana and SW Michigan.  "Follow" Comcast's Greater Chicago Region on Twitter at @ComcastIllinois.  Become an Xfinity VIP by texting XVIPFB to 47211 and get product updates and discounts on local events.