TDF Foundation announces initiative to provide Comcast's Internet Essentials service and a computer to 25 Danville, IL, families…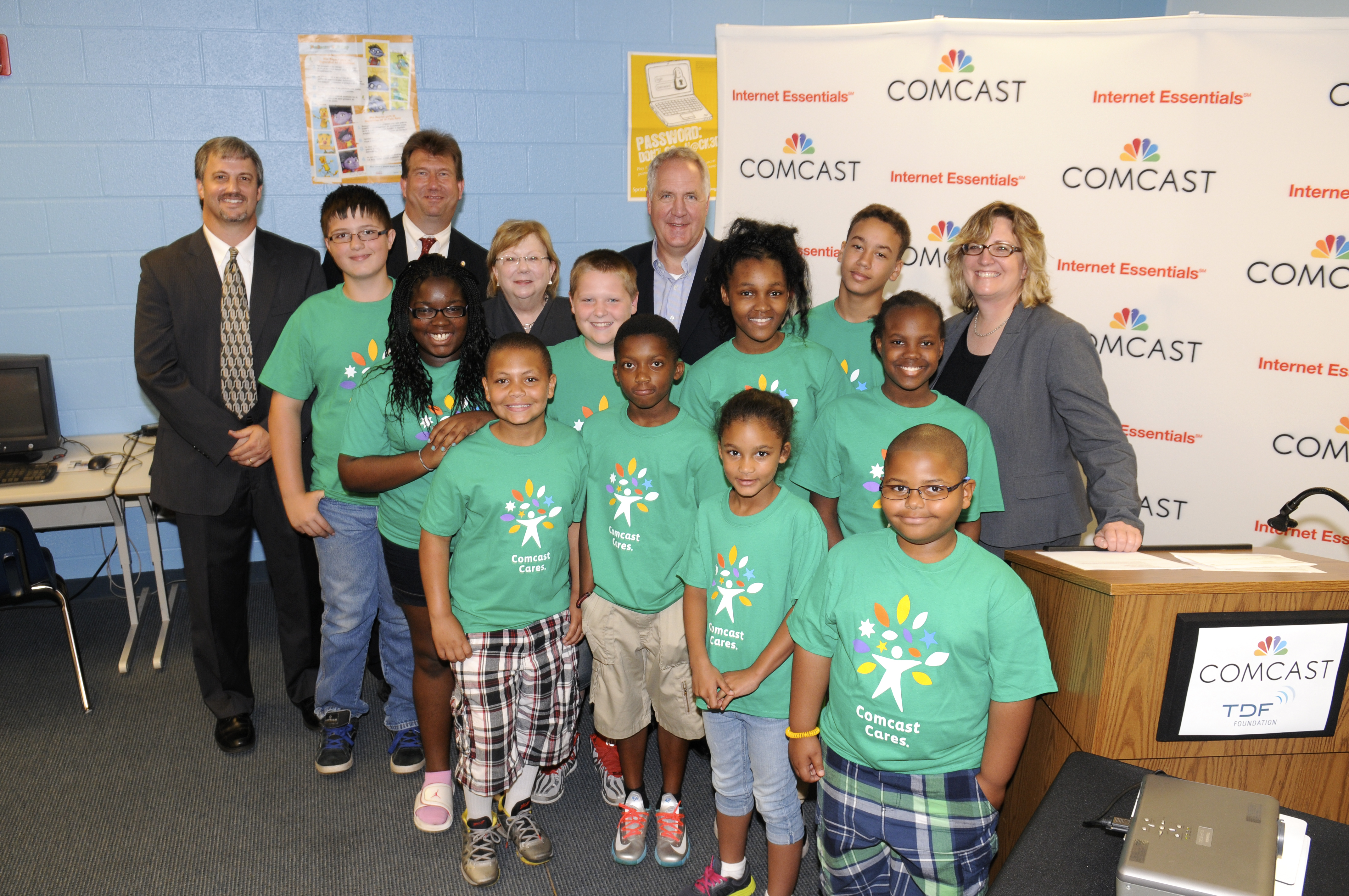 Launched in Illinois three years ago by Comcast, the Internet Essentials program helps close the digital divide by providing eligible families low-cost broadband service at home for about $10 a month.  Today, the TDF Foundation joined Comcast, U.S. Representative John Shimkus (IL 15th District) and Mayor Scott Eisenhauer at the Boys & Girls Clubs of Danville to announce plans to provide Internet Essentials service for a year and a computer for free to 25 local families.
"Access to broadband has a powerful positive effect on individuals and communities," said Linda Nickell, Foundation Director, TDF Foundation.  "Through our Broadband Initiative, the TDF Foundation has brought Internet access to more than 4,000 Americans in unserved and underserved communities.  We are proud to partner with Comcast to bring Internet Essentials to even more families in Danville."
"Broadband access at home helps Illinois families and children succeed economically and in school," said Representative Shimkus.  "I thank the TDF Foundation, and I'm pleased that even more families will have access to the Internet at home because of its generosity."
Since Internet Essentials began in 2011, Comcast has been working with the Danville Public Library and Danville Public Schools District 118 to distribute materials about the program to area students and families.  In addition, Comcast has provided the Boys & Girls Club grants to update its computer lab and to support its digital literacy programs.
About Internet Essentials
Internet Essentials from Comcast is the nation's largest and most comprehensive broadband adoption program.  It provides low-cost broadband service for about $10 a month plus tax; the option to purchase an Internet-ready computer for about $150; and multiple options to access free digital literacy training in print, online and in-person.  A household is eligible to participate if it has at least one child eligible to participate in the National School Lunch Program (NSLP) is located where Comcast offers Internet service, has not subscribed to Comcast Internet service within the last 90 days, and does not have an overdue Comcast bill or unreturned equipment. Families that enroll in the program can continue to enjoy the service as long as one child eligible to participate in the NSLP is living in the household.
For more information about Internet Essentials visit InternetEssentials.com for English and InternetBasico.com for Spanish.  Educators or third-parties interested in helping to spread the word can find more information at InternetEssentials.com/partner. Parents looking to enroll in the program can call 1-855-846-8376 or, for Spanish, 1-855-765-6995.
About the TDF Foundation
The TDF Foundation was established in 2008 to bring communications opportunities and technology to those who need them the most.  The Foundation strives to develop and support a unique and diverse mix of initiatives in collaboration with both public and private organizations that share our mission. The Foundation's broadband Initiatives have reached over 31,000 residents through the Computer Lab Program in thirteen states and the District of Columbia.  The Wi-Fi in the Parks Program provides free Wi-Fi access to over 61,730 residents in five states. For more information about the TDF Foundation, visit www.tdfventures.com/tdf-foundation.
About Comcast Corporation
Comcast Corporation (Nasdaq: CMCSA, CMCSK) is a global media and technology company with two primary businesses, Comcast Cable and NBCUniversal.  Comcast Cable is the nation's largest video, high-speed Internet and phone provider to residential customers under the XFINITY brand and also provides these services to businesses.  NBCUniversal operates 30 news, entertainment and sports cable networks, the NBC and Telemundo broadcast networks, television production operations, television station groups, Universal Pictures and Universal Parks and Resorts.  Visit www.comcastcorporation.com for more information.
With more than 7,000 local employees, Comcast's Greater Chicago Region (chicago.comcast.com) serves customers in central and northern Illinois, including the Chicago area, northwest Indiana and southwest Michigan.  "Like" Comcast's Greater Chicago Region on Facebook by visiting Comcast of Illinois, NW Indiana and SW Michigan.  "Follow" Comcast's Greater Chicago Region on Twitter at @ComcastIllinois.  Become an Xfinity VIP by texting XVIPFB to 47211 and get product updates and discounts on local events.