Residential students will be able to stream live TV and "On Demand" programming to a variety of devices…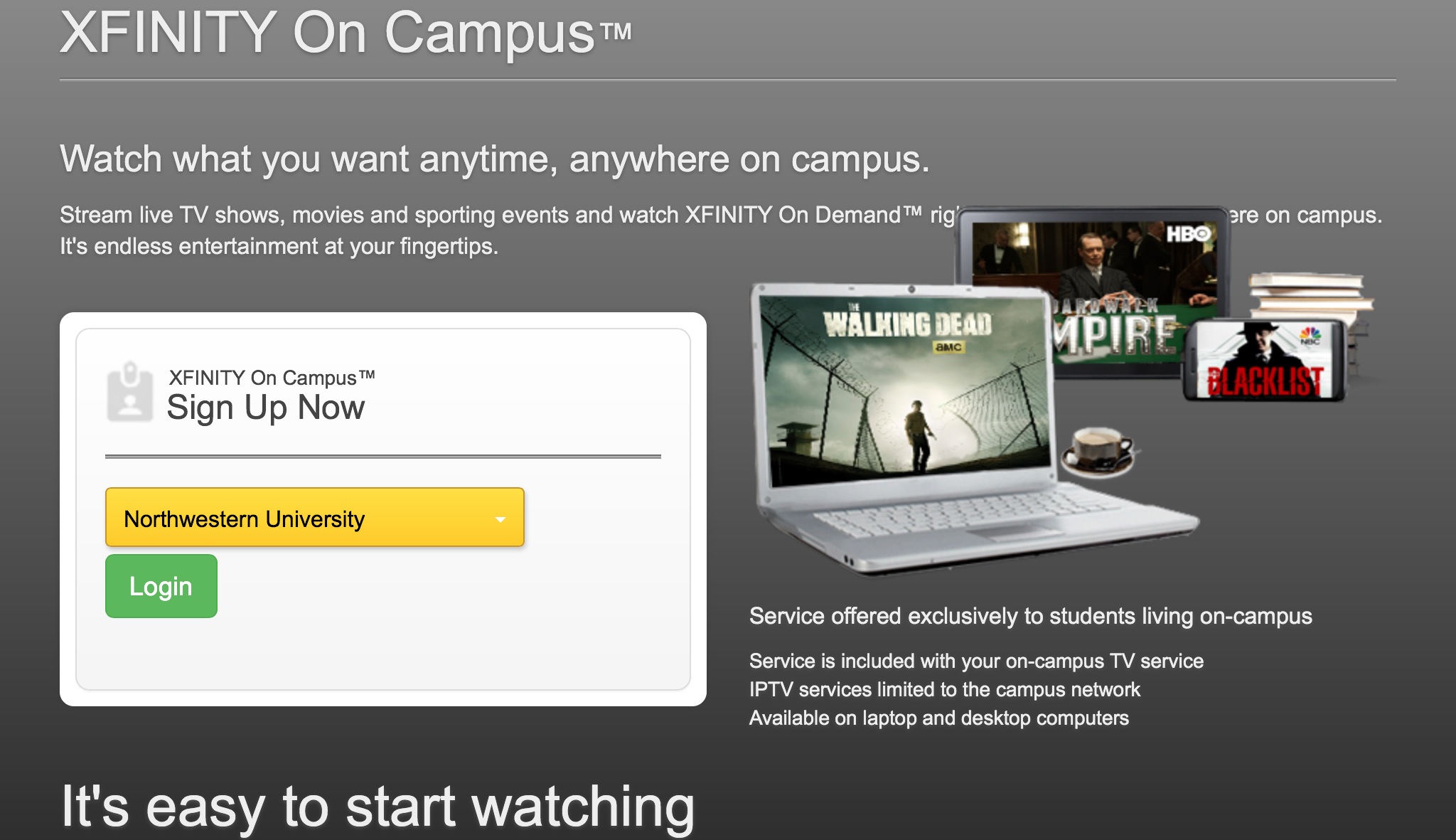 Northwestern University announced today that "Xfinity On Campus" will be available this fall to residential students living on campus.  Developed by Comcast, Xfinity on Campus will let participating students stream live TV and On Demand content directly to their computers, laptops and mobile devices via WiFi, so there's no need for a TV.  Northwestern is the first university in the Midwest that will offer this service.At Northwestern, Xfinity On Campus will include more than 130 live TV channels, including every major broadcast network, as well as cable channels ranging from ESPN and other sports networks, such as The Big Ten network and NBC Sports, to AMC, Comedy Central and MTV.  In addition, participating students will be able to access content on several programmers' Websites and mobile apps, ranging from WatchESPN to FXNOW.
"Xfinity on Campus is a great benefit for students who live on campus," said Paul Riel, executive director of residential services for Northwestern University.  "It fits with students' lifestyles – they can watch live TV content in their rooms and on campus, as well as gain access to programming when they're off campus.  Another benefit is that they do not have to buy or bring TVs, so they will not have to give up precious space in their rooms or disturb their roommates when they want to watch a program."
Residential Services will offer free cable streaming for all on-campus residents beginning Fall Quarter: http://t.co/ruSu19FaeE

— The Daily Northwestern (@thedailynu) September 8, 2014
"Xfinity on Campus lets students watch TV on their own terms," said Marcien Jenckes, executive vice president of Consumer Services for Comcast Cable.  "With this younger generation, more and more viewing is happening away from the traditional TV set, and we have evolved our products and services to better engage them."
In addition to all the live TV and On Demand Choices, participating students will be able to upgrade their service and gain access to premium channels, including the NFL Network, HBO, Showtime and STARZ.
In the coming months, participating students will be able to access the Xfinity On Demand Library on the go using the "Xfinity TV Go" app for Android and iOS devices.  The On Demand library includes current seasons of thousands of TV shows and hit movies.
About Northwestern University
Northwestern University is one of the country's leading private research and teaching universities. It has three campuses: a 240-acre main campus in Evanston, about 12 miles north of downtown Chicago; a 25-acre campus in Chicago; and a campus in Doha, Qatar. The University has approximately 8,000 full-time undergraduate students, 8,000 graduate and professional program students and 2,000 part-time students.  A member of the Big Ten Conference, its athletic teams are called the Wildcats. Founded in 1851, Northwestern has 12 schools and colleges.
About Comcast Corporation
Comcast Corporation (Nasdaq: CMCSA, CMCSK) is a global media and technology company with two primary businesses, Comcast Cable and NBCUniversal.  Comcast Cable is the nation's largest video, high-speed Internet and phone provider to residential customers under the XFINITY brand and also provides these services to businesses.  NBCUniversal operates 30 news, entertainment and sports cable networks, the NBC and Telemundo broadcast networks, television production operations, television station groups, Universal Pictures and Universal Parks and Resorts.  Visit www.comcastcorporation.com for more information.
With about 7,000 local employees, Comcast's Greater Chicago Region (chicago.comcast.com) serves customers in central and northern Illinois, including the Chicago area, northwest Indiana and southwest Michigan.  "Like" Comcast's Greater Chicago Region on Facebook by visiting Comcast of Illinois, NW Indiana and SW Michigan.  "Follow" Comcast's Greater Chicago Region on Twitter at @ComcastIllinois.