Partnership is Comcast NBCUniversal's largest with the nonprofit; My.Future provides hands-on technology training to equip youth at the Little Village Boys & Girls Club in Chicago with skills needed to succeed in digital age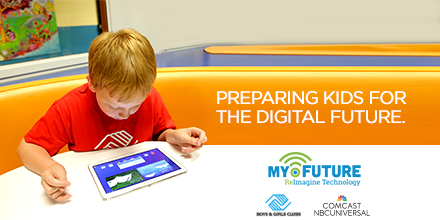 Boys & Girls Clubs of America (BGCA) and Comcast NBCUniversal announced today that they have entered into a five-year national partnership valued at tens of millions of dollars in cash and in-kind support. This is the largest partnership between Comcast NBCUniversal and BGCA and includes the launch of My.Future, a new technology initiative designed to teach Club members about our digital world and ignite their passion for technology.
To celebrate this exciting announcement, Comcast NBCUniversal has renovated the Boys & Girls Clubs in Chicago's Little Village neighborhood, located at 2801 South Ridgeway Ave. with state-of-the-art technology that reflects today's mobile environment, including 20 HP desktop computers, 20 Samsung Galaxy tab 4 educational tablets, 10 HP laptops with touch screens, 5 Canon Eos Rebel cameras, music studio tools and video-editing technology.  In addition to providing this new technology to the Little Village Club, the Comcast Foundation also provided on-site renovations, including new paint, furniture and structural repairs.
"Without the gift of technology that Comcast is providing today, Boys & Girls Clubs of Chicago would not be able to address the ongoing needs of youth in the Little Village community and provide our residents the tools they need to be competitive in the marketplace," said James G. Keane, President and CEO, Boys & Girls Clubs of Chicago. "The Little Village Club can now serve as a central place where our Club members will have the opportunity to gain valuable marketable skills, have fun learning and be ready for life."
Comcast NBCUniversal is the Presenting Sponsor of My.Future, which is available to the nearly 4 million youth served by more than 4,100 Boys & Girls Clubs. My.Future allows Club members to select from more than 40 activities that reinforce digital literacy, including areas of exploring the web, communicating with others digitally and building media. Additional experiences allow members to explore advanced topics, such as robotics, coding and game design. My.Future is part of BGCA's Great Futures Campaign, launched in July to call attention to the crisis facing kids and elevate the role of out-of-school time in reversing negative trends and empowering more youth toward success through enriching after-school and summer programs.
"We are proud to partner with Boys & Girls Clubs of America to teach youth about the endless possibilities that technology offers, while helping to bridge the digital divide," said David L. Cohen, Executive Vice President, Comcast Corporation. "We have supported local Boys & Girls Clubs for nearly 15 years because they truly make a difference in the lives of children across the country, inspiring youth to reach their full potential through hands-on programs that encourage children to explore and innovate."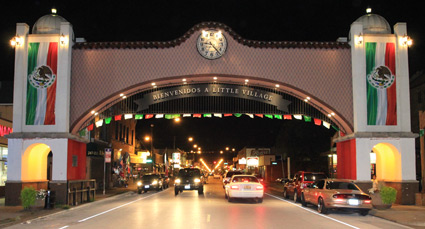 Additionally, through the new partnership, Comcast will provide in-kind support that will include national airtime for BGCA's public service announcements to communicate the benefits Boys & Girls Clubs provide to youth most in need during out-of-school-time.
By partnering with BGCA, Comcast NBCUniversal is harnessing the power of technology and the Internet to expand digital literacy and help conquer the digital divide. Since 2011, Comcast and the Comcast Foundation have dedicated more than $200 million in cash and in-kind support to fund digital readiness initiatives nationwide, reaching more than 1.75 million people through non-profit, digital literacy partners, including Boys & Girls Clubs of America.
According to STEMConnector.org, STEM jobs in the U.S. are expected to grow nearly twice as fast as other fields by 2018. There will be more than 8 million STEM jobs in the U.S. by 2018, but 3 million of them may go unfilled because of a lack of people with required skills. The project-based learning experiences that are a part of My.Future will introduce more young people to STEM-related activities to help address this large, unmet need.
About the Boys & Girls Clubs of Chicago
Serving Chicago families since 1902, Boys & Girls Clubs of Chicago (BGCC) uses a comprehensive blend of mentoring and programming to provide youth ages 6 to 18 the tools they need to become well-rounded and successful adults. Filling the after-school hours, which can be the most dangerous for young people, BGCC offers academic, social, and leadership activities for students in some of Chicago's most challenging neighborhoods. We match youth with professional adult mentors, giving kids a safe place to learn, grow, and succeed. Learn more at: http://www.bgcc.org.
About Comcast Corporation
Comcast Corporation (Nasdaq: CMCSA, CMCSK) is a global media and technology company with two primary businesses, Comcast Cable and NBCUniversal. Comcast Cable is the nation's largest video, high-speed Internet and phone provider to residential customers under the XFINITY brand and also provides these services to businesses. NBCUniversal operates news, entertainment and sports cable networks, the NBC and Telemundo broadcast networks, television production operations, television station groups, Universal Pictures and Universal Parks and Resorts.  Visit www.comcastcorporation.com for more information.
With nearly 7,000 local employees, Comcast's Greater Chicago Region (chicago.comcast.com) serves customers in central and northern Illinois, including the Chicago area, northwest Indiana and southwest Michigan.  "Like" Comcast's Greater Chicago Region on Facebook by visiting Comcast of Illinois, NW Indiana and SW Michigan.  "Follow" Comcast's Greater Chicago Region on Twitter at @ComcastIllinois.