4,000 CPS students completed more than 150,000 quests over the course of the challenge…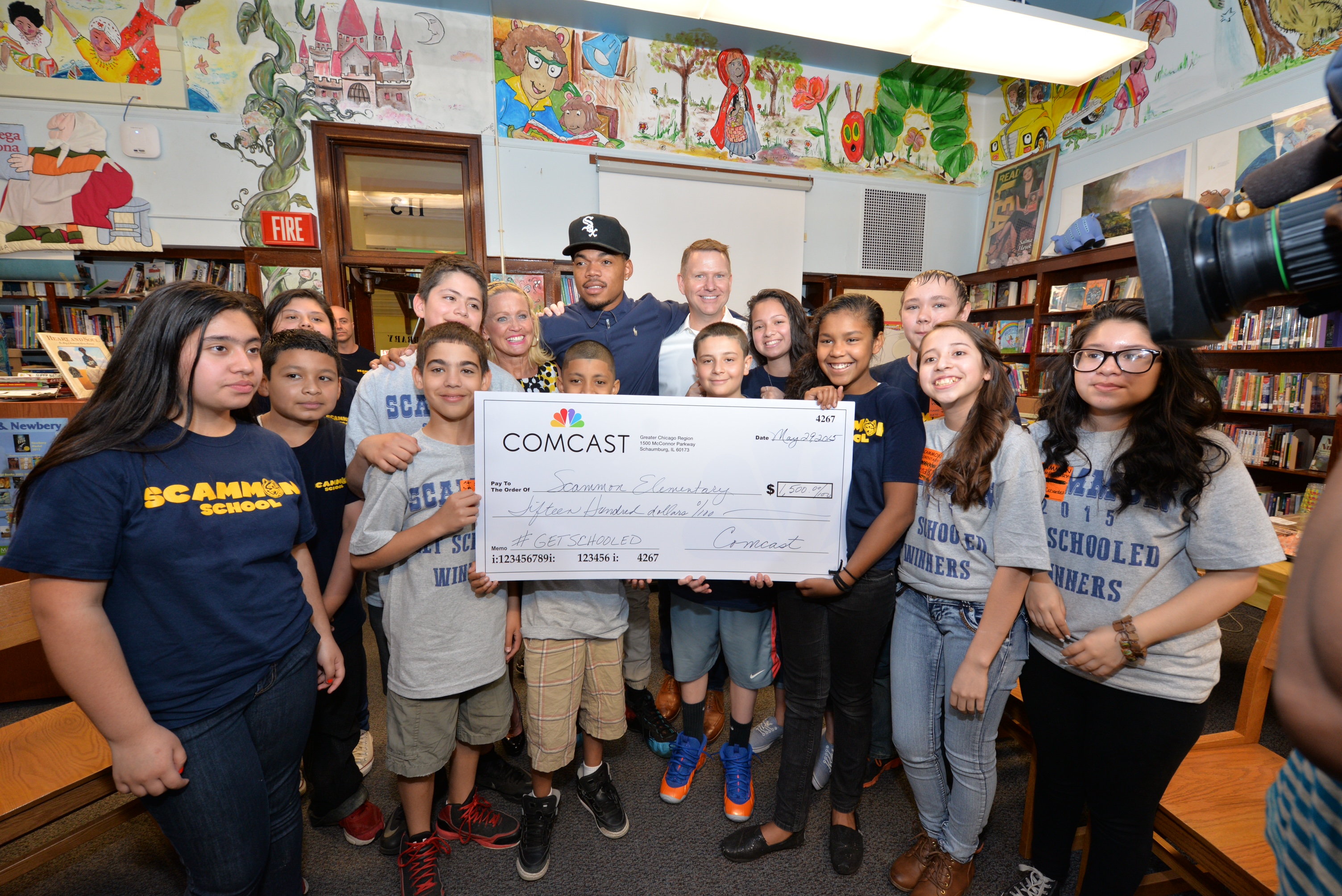 Chance the Rapper  joined Comcast, civic leaders and students and faculty from Chicago's John Fiske and Scammon Elementary Schools today to announce that the two schools earned the most points in the "Get Schooled, Get Connected Spring Challenge."
More than 4,000 students from 20 Chicago Public Schools (CPS) participated in the challenge, which was designed to help them stay connected, stay motivated and finish the school year strong.  And they did – over the course of the challenge, participants completed more than 150,000 educational modules – or "quests" – designed to provide information about topics, ranging from how to succeed in school and make education plans to how to apply for college and financial aid resources.  The content is delivered through an online technology platform that's available through www.getschooledgetconnected.com, and it features a series of pop culture references and localized information designed to maintain participants' interest.
Comcast's support for the challenge stems from its Internet Essentials program, which provides Internet service at home to eligible low-income families for about $10 per month.  Since its launch in 2011, Internet Essentials has helped 27,000 low-income Chicago families – or 120,000 Chicagoans in total – connect to the Internet at home, many for the first time.
"Having home Internet access can transform a young person's life, because it opens an entire world to special programs like the 'Get Schooled, Get Connected Challenge,'" said Chance the Rapper, who attended Jones College Prep and was the recipient of Chicago's 2014 "Outstanding Youth of the Year" award for his community service work. "One student and one family at a time, this program will help close the digital divide by engaging and educating students throughout Chicago."
In January of this year, Comcast provided $100,000 in support for school foundations and community-based organizations that won the inaugural three-month challenge.  Comcast announced that it will award the Children's First Fund $9,000 in support of Fiske, Scammon and other schools that participated in the spring challenge.
For more information about Internet Essentials, visit www.internetessentials.com or call 1-855-846-8376.
About Comcast Cable
Comcast Cable is the nation's largest video, high-speed Internet and phone provider to residential customers under the XFINITY brand and also provides these services to businesses under the Comcast Business brand. Comcast has invested in technology to build an advanced network that delivers among the fastest broadband speeds, and brings customers personalized video, communications and home management offerings.  Comcast Corporation (Nasdaq: CMCSA, CMCSK) is a global media and technology company. Visit www.comcastcorporation.com for more information.
With nearly 7,000 local employees, Comcast's Greater Chicago Region (chicago.comcast.com) serves customers in central and northern Illinois, including the Chicago area, northwest Indiana and southwest Michigan.  "Like" Comcast's Greater Chicago Region on Facebook by visiting Comcast of Illinois, NW Indiana and SW Michigan.  "Follow" Comcast's Greater Chicago Region on Twitter at @ComcastIllinois.