Fiber expansion increases access to Ethernet, Internet, Voice and Cloud Services, helps accelerate growth of existing area businesses and attract new ones…
Number of Xfinity WiFi hot spots passes 7,000 in Elgin, South Elgin…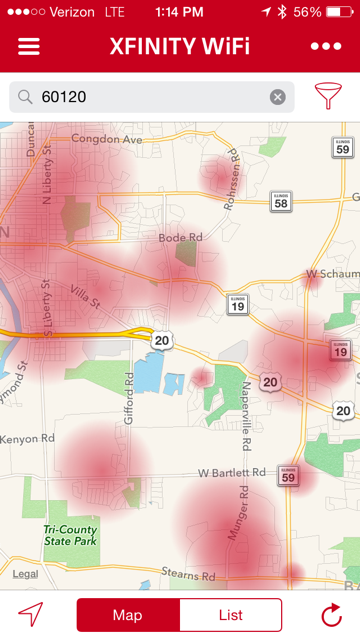 Comcast announced today that the company has added nearly two miles of fiber optic network in Elgin, IL, near Interstate 90 and Randall Road to serve businesses in and around the Northwest Business Park, and four miles of fiber optic network in South Elgin, IL, to serve businesses along Schneider Drive from Bowes Road south to Sundown Road.
This proactive infrastructure investment will give numerous Elgin and South Elgin businesses the ability to access Internet speeds of up to 10 Gbps, along with a wide range of Comcast Business services, including Ethernet, Internet, Voice and value-added Cloud Services.  The investment being made by the company is in response to strong demand for Comcast Business offerings and supports broader community efforts to expand the local telecommunications and information technology infrastructure.
Comcast also announced that the number of hot spots on its WiFi network in Elgin and S. Elgin has surpassed 7,000, including more than 60 in outdoor locations throughout the two communities, nearly 450 in local businesses and more than 6,700 in area homes.  The network comprises 875,000 hot spots in the company's Greater Chicago Region and more than 8 million in locations across the country.
"Proactive investments in our technology infrastructure will help Elgin compete at a regional, national and even international level, as well as help create good jobs and attract new companies that require access to high-speed, high-capacity data networks," said Elgin Mayor David Kaptain.
"The addition of fiber in Elgin and South Elgin is part of a larger effort by Comcast Business to expand its footprint and reach more businesses that could benefit from increased bandwidth," said Jay Dirkmaat, regional vice president of Comcast Business. "Increased bandwidth allows businesses to access more and more applications and services in the cloud, accommodate rapidly increasing numbers of employees using mobile devices and exchange large amounts of data."
Dirkmaat added that in the Chicago area, Comcast has proactively built or added to its fiber network in downtown Chicago, near O'Hare and Midway airports, along major suburban office corridors and a host of additional city and suburban locations.
How to locate Xfinity WiFi hotspots
Comcast developed the Xfinity WiFi app for Android and iOS devices to help customers locate hot spots near them.  Customers also can visit www.xfinity.com/WiFi to locate hotspots and learn more about Xfinity WiFi.  To access Xfinity WiFi hot spots, customers should select "xfinitywifi" or "CableWiFi" from the list of available WiFi networks on their computers or mobile devices.  Once customers login to either of these networks, they'll be connected automatically the next time they're in range.
For more information, call 1-800-XFINITY or visit www.xfinity.com/WiFi.
About Comcast Business
Comcast Business, a unit of Comcast Cable, provides advanced communication solutions to help organizations of all sizes meet their business objectives. Through a next-generation network that is backed by 24/7 technical support, Comcast delivers Business Internet, Ethernet, TV and a full portfolio of Voice services for cost-effective, simplified communications management. For more information, call (866) 429-3085. Follow Comcast Business on Twitter @ComcastBusiness and on other social media networks at http://business.comcast.com/social.
With nearly 7,000 local employees, Comcast's Greater Chicago Region (chicago.comcast.com) serves customers in central and northern Illinois, including the Chicago area, northwest Indiana and southwest Michigan.  "Like" Comcast's Greater Chicago Region on Facebook by visiting Comcast of Illinois, NW Indiana and SW Michigan.  "Follow" Comcast's Greater Chicago Region on Twitter at @ComcastIllinois.