New 9,000 square-foot store in Clybourn Corridor is a major investment in the City of Chicago…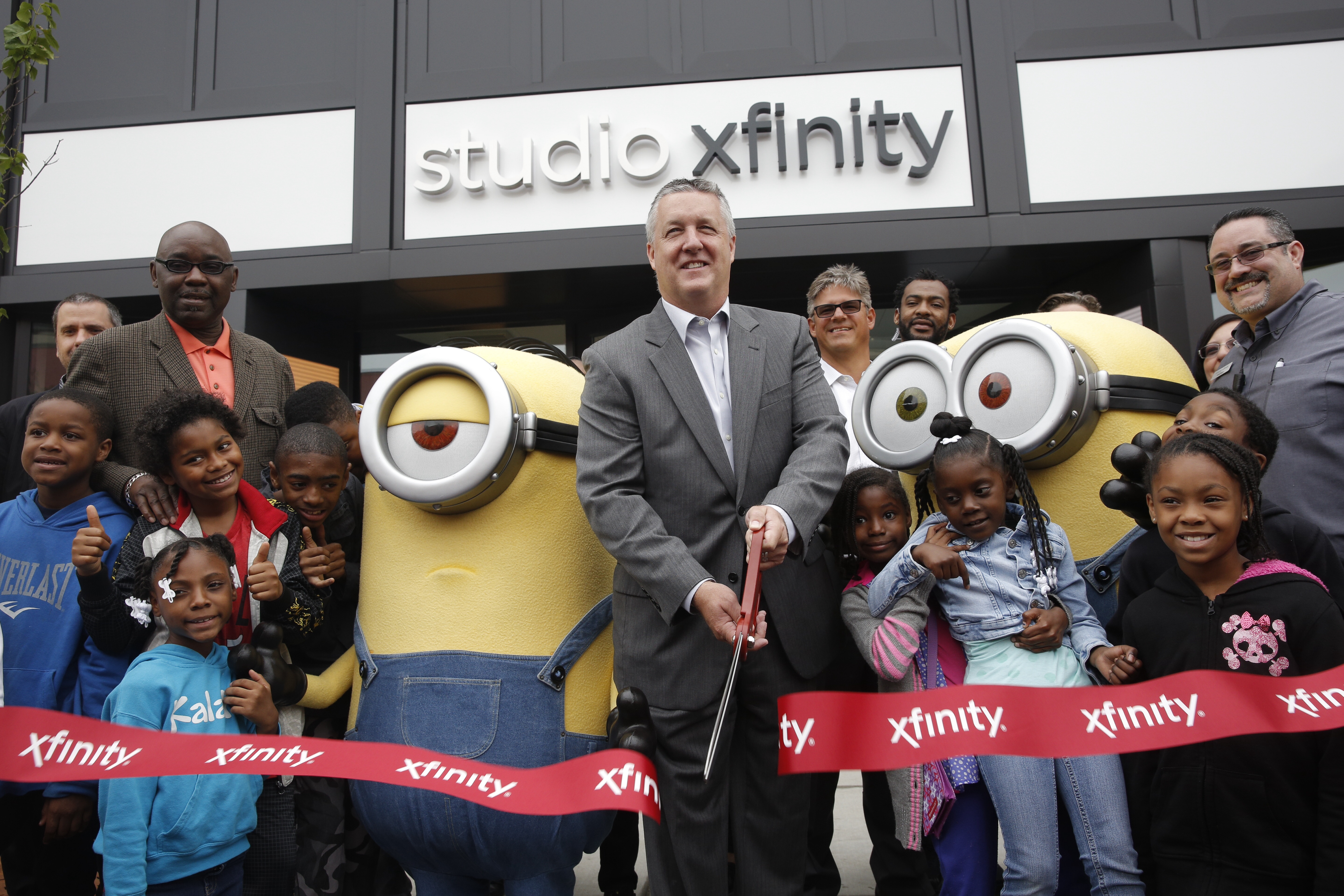 Comcast celebrated the grand opening of STUDIO XFINITY today in Chicago. The new 9,000-square-foot store at 901 W. Weed St. in Chicago's Clybourn Corridor brings together the best TV and Internet technology in a unique store experience that will serve as a test environment for enhanced ways to serve customers. In addition, the store will serve as an interactive space in which customers can experience Comcast's wide range of Internet, video, voice and home security and automation products and services.
"STUDIO XFINITY is a transformational retail environment designed to give our customers new ways to experience our products and services," said John Crowley, senior vice president of Comcast's Greater Chicago Region. "STUDIO XFINITY is a significant investment and is part of a much larger effort underway here in Chicago and around the country to redefine the customer experience."
"I'm thrilled that Comcast has selected the City of Chicago and specifically the 27th Ward as the site of the launch of STUDIO XFINITY," said Walter Burnett, Chicago 27th Ward Alderman.
Robert Steele, Commissioner of Cook County's 2nd District, added, "Locating the store in Cook County demonstrates the market's technology and economic leadership, as well as Comcast's commitment to the Chicago area."
Burnett and Steele joined local families and children, the Minion characters and Comcast employees at the grand opening of the store today.
STUDIO XFINITY visitors will be the first to benefit from new customer service processes and technologies, including a Enhanced Customer Engagement Model that begins when customers enter the store. Store team members will greet customers when they arrive, serve as their guide throughout their visit and even provide support after they leave if they have follow-up questions.
In addition, Comcast is testing a new Customer Timeline app that will help team members serve customers more quickly and efficiently by giving them immediate access to their account information and history. Comcast also has instituted Online Appointment Scheduling for the first time at STUDIO XFINITY, so customers can schedule appointments in advance from their computers and mobile devices.
STUDIO XFINITY has state-of-the-art Demonstration Towers that allow customers to test-drive current products and services and preview new ones. It also has a Merchandise Wall with products like Sonos Soundbar and Netgear routers that complement the XFINITY lineup.
In addition, the store will hold informational and fun Events and Activities, ranging from educational workshops and product demos to sports-related events and game nights, and offer visitors coffee, tea and other refreshments.
STUDIO XFINITY is part of a companywide effort to transform the customer experience. As part of this initiative, Comcast also:
Committed to hiring 5,500 customer service representatives in locations across the country over the next few years, and already has announced three new customer support centers in Albuquerque, Spokane and Tucson;
Is expanding its Social Care team to handle inquiries quickly on social media channels customers frequently use;
Committed to always being on time for customer appointments by the third quarter of 2015;
Created the MyAccount app, which allows customers to get information about their accounts and troubleshoot issues;
Partnered with The UPS Store to make equipment returns easier and more convenient at 4,400 locations across the country; and
Created a new role in the Greater Chicago Region and elsewhere in the company – vice president of Customer Experience – to develop and improve processes that impact the customer experience.
The newest addition to the customer experience roster is Co-Pilot, which currently is being trialed nationally. Co-Pilot is a new tool for the X1 Entertainment Operating System that allows customer service representatives to see a customer's screen and literally take it over, navigating the customer through the various features and tools the customer may be having difficulty using within X1.
STUDIO XFINITY store hours are Monday through Saturday from 10 a.m. to 8 p.m. and Sunday from 11 a.m. to 6 p.m. For more information, visit www.studioxfinity.com.
About Comcast Cable
Comcast Cable is the nation's largest video, high-speed Internet and phone provider to residential customers under the XFINITY brand and also provides these services to businesses under the Comcast Business brand. Comcast has invested in technology to build an advanced network that delivers among the fastest broadband speeds, and brings customers personalized video, communications and home management offerings. Comcast Corporation (Nasdaq: CMCSA, CMCSK) is a technology company. Visit ww.comcastcorporation.com for more information.
With nearly 7,000 local employees, Comcast's Greater Chicago Region (chicago.comcast.com) serves customers in central and northern Illinois, including the Chicago area, northwest Indiana and southwest Michigan.  "Like" Comcast's Greater Chicago Region on Facebook by visiting Comcast of Illinois, NW Indiana and SW Michigan.  "Follow" Comcast's Greater Chicago Region on Twitter at @ComcastIllinois.