Comcast to Provide Free Xfinity WiFi at Pioneer Court during Chicago Ideas Week…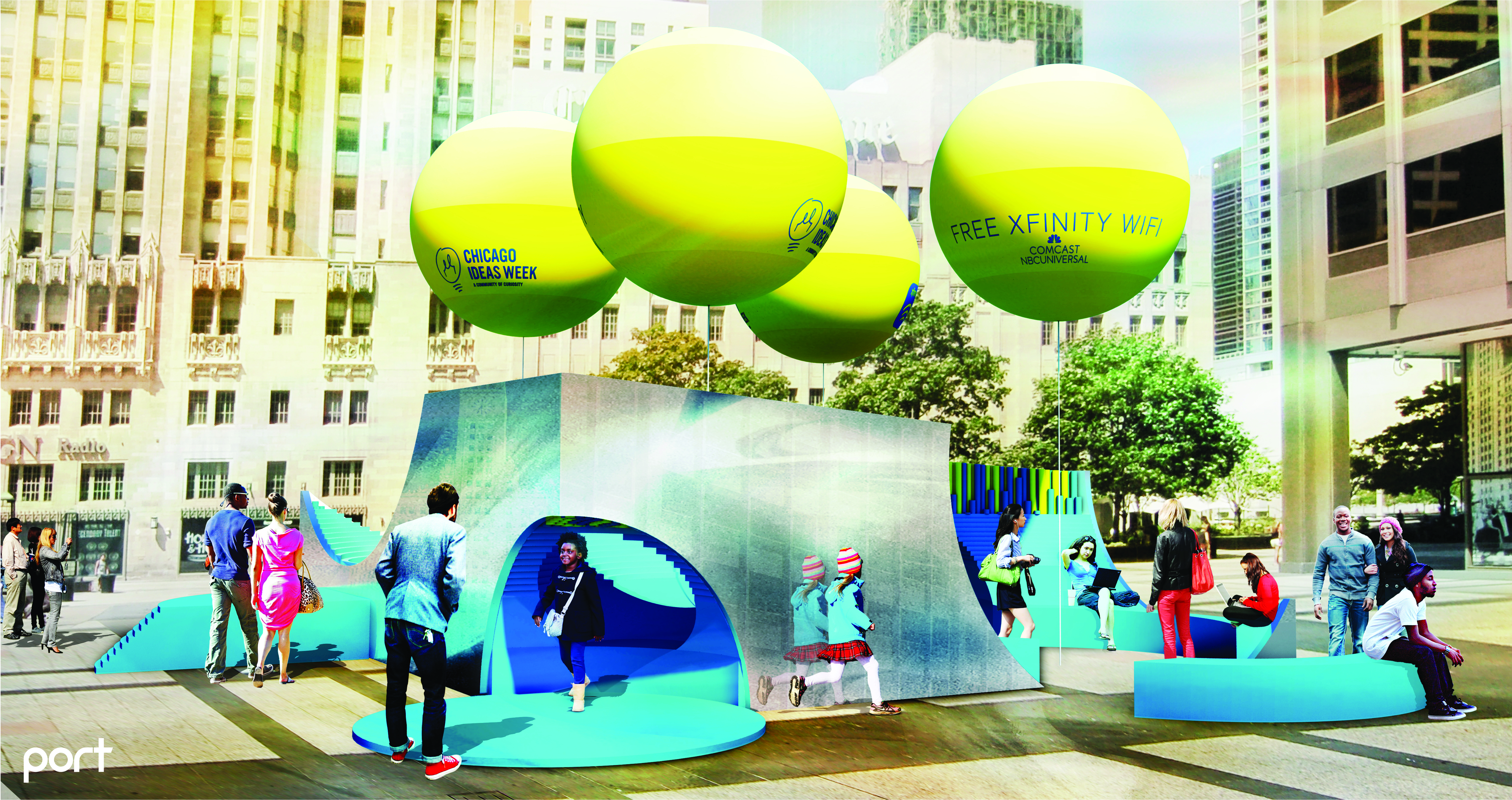 Chicago Ideas Week (CIW) is excited to announce local design consultancy firm PORT Urbanism as the 2015 CIW Artist-in-Residence. Co-Founders Christopher Marcinkoski and Andrew Moddrell's "Thick City Pavilion," to be located at 401 N. Michigan Ave., will celebrate Chicago's rich and layered past, present and future with an interactive design that the public can explore.
"We approached this installation as an opportunity to create an active, vibrant and playful piece of collective public space in the heart of the city," said Moddrell, founding partner and director of PORT Urbanism.
The pavilion's interior spaces include layers of colorful painted wood and various densities of foam. The spaces encourage visitors to reflect on the city's many layers through the pavilion's range of surfaces and spaces upon which to sit, climb, jump, read, chat, reflect and enjoy. Additionally, four illuminated balloons float at varied heights above the artificial landscape and provide another layer to the installation.
"PORT Urbanism's piece addresses the rich culture and history of our city, and highlights Chicago's ever-growing tech scene," said Jessica Malkin, executive director of CIW. "We are excited for the many opportunities for engagement with the Thick City Pavilion during Chicago Ideas Week."
Now in its fifth year, the CIW Artist-in-Residence program engages and exposes the City of Chicago to a local artist or a collection of artists through the creation of an extraordinary installation that draws on and amplifies existing CIW programs. Past Artists-in-Residences have included Juan Angel Chavez, Hebru Brantley, Luftwerk and Jason Salavon.
Thick City Pavilion will also feature complimentary Xfinity Wi-Fi provided by Comcast and over 10 free events, all open to the public. Holy Goat Percussion, ComedySportz Chicago, MindFuel Wellness and Matthew Hoffman, creator of the You Are Beautiful campaign, will all host hands-on events that give attendees the opportunity to explore the space through unique activations. This year's program is generously underwritten by Comcast NBCUniversal.
"Comcast plays an integral role in the community and the local economy. Our goal in partnering on the CIW Artist-in-Residence program is to bring people and communities together to think in concert about the city's future," said John Crowley, Comcast's regional senior vice president, who congratulated Port URBANISM's Marcinkoski and Moddrell on being named the 2015 CIW Artist-in-Residence. "Our hope is that visitors will take advantage of Xfinity WiFi access onsite to share pictures, thoughts and ideas inspired by Thick City Pavilion."
The display is being installed at Pioneer Court, 401 N. Michigan Ave., and will be open to the public October 1 – 18. For a full list of CIW calendar events, visit chicagoideas.com.
About Artist-in-Residence
The CIW Artist-in-Residence is a program designed to engage and expose the city of Chicago to a local artist or a collection of artists through the creation of an extraordinary installation. This installation will draw on and intensify the impact of CIW's programs, while raising new questions and altering how we think, interact or move through a space. In conjunction with the Chicago Architecture Biennial, this year's Artist-in-Residence will focus on architecture with an installation at the planned location of 401 N. Michigan Ave. Previous Artists-in-Residence have included those whose work involved sculpture, technology, visual art and projections.
About Chicago Ideas Week
Chicago Ideas is a year-round platform featuring globally recognized speakers and interactive experiences designed to turn ideas into actionable results. It's a platform for ideas, created for innovators, thinkers, doers and interested citizens from across Chicago, the greater Midwest and the world. Its goal is to stimulate new initiatives and ventures, create new connections and collaborations, and establish a Community of Curiosity. Chicago Ideas is a 501(c)(3) organization. Follow Chicago Ideas on Twitter @chicagoideas and on Facebook for updates.