Number of Xfinity WiFi hot spots in DeKalb approaching 7,000…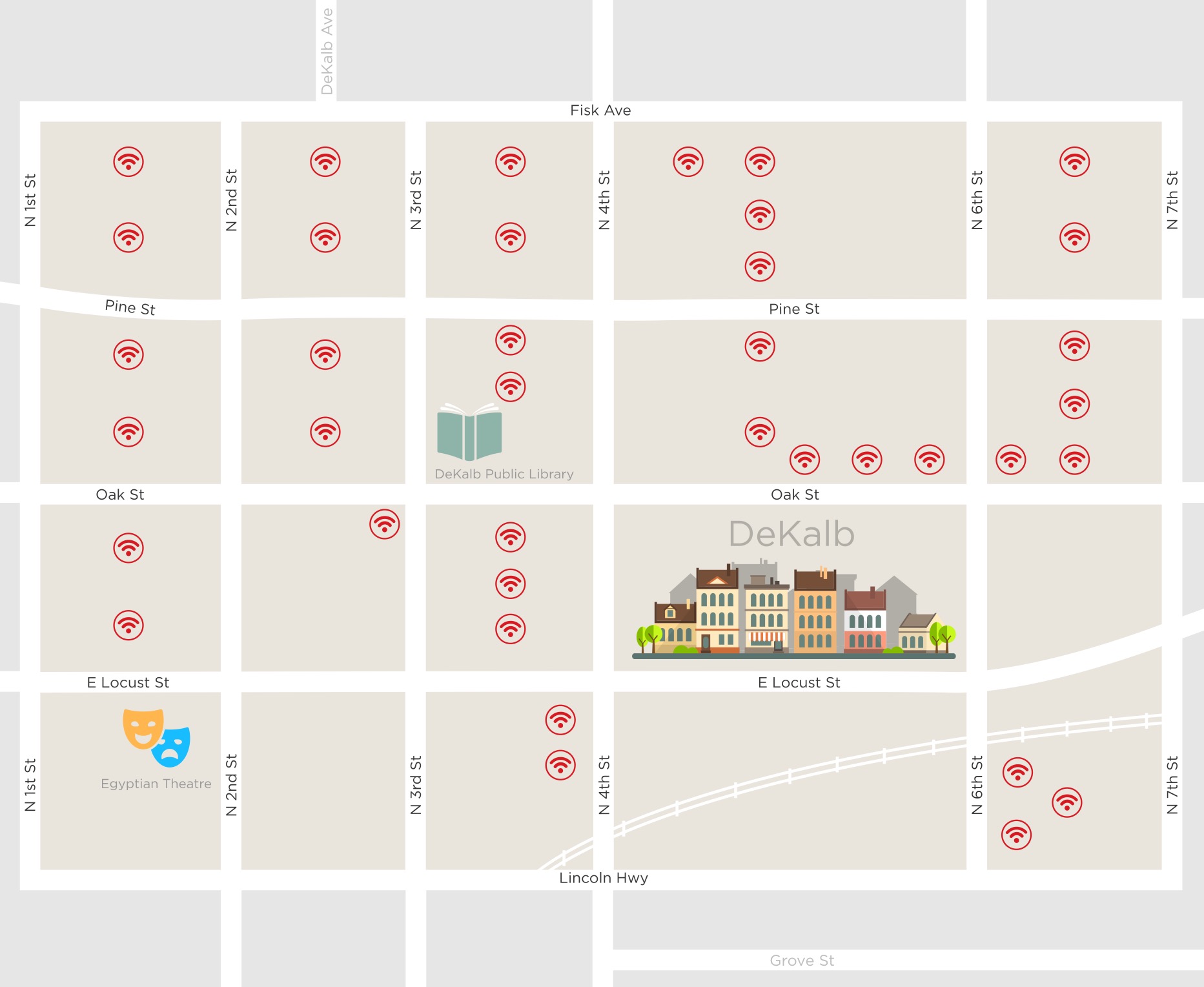 Comcast announced plans today to install more than 40 new Xfinity WiFi hot spots in outdoor locations around downtown DeKalb.  Nearly three years ago, Comcast launched the Xfinity WiFi network and since then has installed nearly 7,000 hot spots in businesses, homes and outdoor locations throughout the City of DeKalb – and about 10 million in locations nationwide.
"People use the Internet on the go all the time, but wireless data plans can be expensive, and megabytes can add up quickly," said John Crowley, Comcast's regional senior vice president.  "Our goal is to provide a seamless WiFi experience for downtown businesses and visitors."
Xfinity high-speed Internet customers can use WiFi to stream their favorite TV shows, movies and other content on their laptops and Android and iOS devices on the go.  The Xfinity WiFi network is available to Xfinity high-speed Internet customers for no additional charge.  Comcast offers non-customers two free one-hour Xfinity WiFi sessions per month.
"The addition of WiFi hot spots is a great amenity for business owners, patrons and students and will help attract even more people to downtown to work, shop, enjoy cultural events and study," said Dekalb Mayor John Rey.  "The City of DeKalb appreciates Comcast's investment in DeKalb's technology infrastructure."
How to find Xfinity WiFi hotspots
Comcast developed the Xfinity WiFi app for Android and iOS devices to help customers locate hot spots near them.  Customers also can visit www.xfinity.com/WiFi to locate hotspots and learn more about Xfinity WiFi.  To access Xfinity WiFi hot spots, customers should select "xfinitywifi" or "CableWiFi" from the list of available WiFi networks on their computers or mobile devices.  Once customers login to either of these networks, they'll be connected automatically the next time they're in range.
For more information, call 1-800-XFINITY or visit www.xfinity.com/WiFi.
Additional recent Xfinity Internet upgrades
Comcast continually upgrades its high-speed Internet service in an effort to provide more and more value to customers.  In addition to creating the Xfinity WiFi network and adding thousands of hot spots locally, earlier this year, Comcast increased the download speed of its Blast! high-speed Internet service in DeKalb by 50% – to 75 Mbps – for no additional charge.  Comcast also announced a new service tier called "Extreme 150," which has download speeds of up to 150 Mbps.  In addition, Comcast launched a new 2 Gbps Internet service called "Gigabit Pro" to residential customers in DeKalb and other locations in the company's Greater Chicago Region, which spans Illinois, NW Indiana and SW Michigan.  Gigabit Pro is available to homes in proximity to Comcast's fiber network, which totals 145,000 miles across the company's service area.  Comcast has been delivering multi-gig (up to 10 Gbps) Ethernet service to businesses in the region since 2011.
About Comcast Cable
Comcast Cable is the nation's largest video, high-speed Internet and phone provider to residential customers under the XFINITY brand and also provides these services to businesses under the Comcast Business brand. Comcast has invested in technology to build an advanced network that delivers among the fastest broadband speeds, and brings customers personalized video, communications and home management offerings.  Comcast Corporation (Nasdaq: CMCSA, CMCSK) is a global media and technology company. Visit www.comcastcorporation.com for more information.
With nearly 7,000 local employees, Comcast's Greater Chicago Region (chicago.comcast.com) serves customers in central and northern Illinois, including the Chicago area, northwest Indiana and southwest Michigan.  "Like" Comcast's Greater Chicago Region on Facebook by visiting Comcast of Illinois, NW Indiana and SW Michigan.  "Follow" Comcast's Greater Chicago Region on Twitter at @ComcastIllinois.