Springfield Mayor James O. Langfelder, Springfield Public Schools District 186 and several local community-based organizations join Comcast to address digital divide…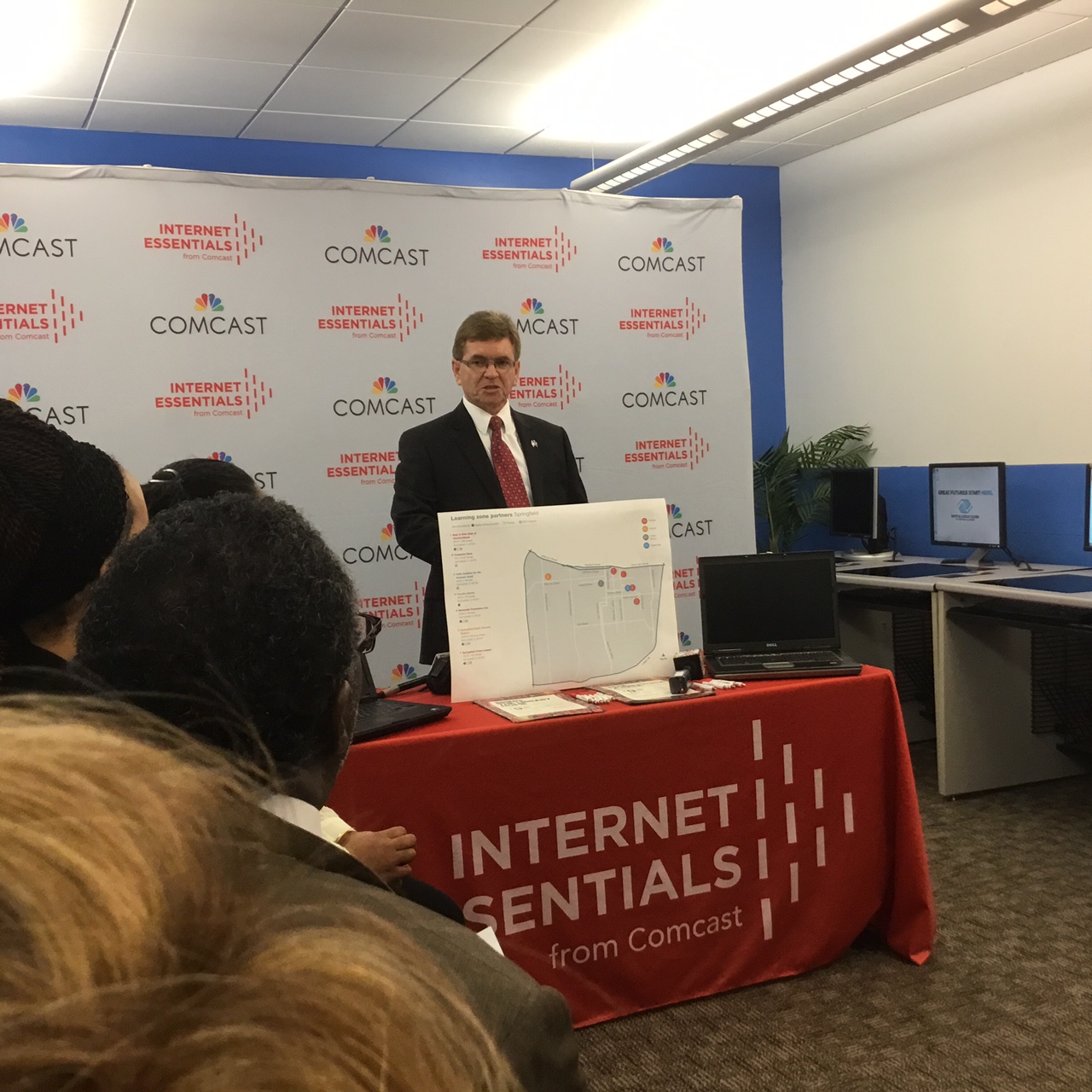 Springfield Mayor James O. Langfelder, Springfield Public Schools District 186,  a host of community-based organizations and local elected officials joined Comcast today to announce the creation of an "Internet Essentials Learning Zone" in Springfield.  Comcast's Internet Essentials program helps close the digital divide by providing eligible families low-cost broadband service at home for about $10 a month.  Families also can purchase an Internet-ready computer through the program for about $150, as well as access digital literacy training sessions and materials online, in print and in person.  The zone, which spans the City of Springfield, will further expand Internet access, enhance digital literacy and help families via:
Free indoor WiFi service and access to computers at a host of Springfield zone partners, including:

Boys and Girls Clubs of Central Illinois (300 S. 15th Street); Nehemiah Expansion, Inc.(2208 E. Kansas); and the Springfield Urban League (100 N. 11th Street);

Donation of a laptop from Comcast to each of the participating zone partners and contribution of refurbished computers and laptops from Computer Banc for the computer labs of the Springfield zone partners, other local non-profit organizations and Springfield Public Schools District 186;
Digital literacy training programs in conjunction with zone partner organizations designed to educate parents and children about how to use the Internet effectively and safely, and parents about how to monitor their children's online activity and school work; and
Distribution of Internet Essentials information to families through Springfield Public Schools District 186 and zone partners.
"I'm pleased that Springfield Public School District and community-based organizations are joining Comcast to help children's minds and communities grow," said Springfield Major James O. Langfelder.  "The Internet is essential to succeed in today's digital world.  Community collaborations, like the Internet Essentials Learning Zone, which provide access to technology and education, are crucial to closing the digital divide."
"For many of the students who don't have access to the Internet at home, the learning day ends when they leave school," said Jennifer Gill, Superintendent of Springfield Public Schools District 186.  "The Internet Essentials Learning Zone will extend the learning day and give kids who don't have Internet access at home a leg up."
"The zone will help local families by giving them access to computers and the Internet via indoor WiFi at community-based organizations many of them already visit for after-school or other programs," said Matthew Summy, Regional Vice President of External & Government Affairs.  "Internet Essentials also helps extend the learning day.  Since the program began in 2011, more than 65,000 families have enrolled in the program in Illinois."
About Internet Essentials
Internet Essentials from Comcast is the nation's largest and most comprehensive high-speed Internet adoption program.  It provides low-cost high-speed Internet service for $9.95 a month plus tax; the option to purchase an Internet-ready computer for under $150; and multiple options to access free digital literacy training in print, online and in-person.  Eligible families must have at least one child eligible to participate in the National School Lunch Program, including public, parochial, private, charter, and homeschooled students.  For more information or to apply for the program, visit www.InternetEssentials.com or call 1-855-846-8376, or for Spanish, call 1-855-765-6995.
About Comcast Corporation
Comcast Corporation (Nasdaq: CMCSA) is a global media and technology company with two primary businesses, Comcast Cable and NBCUniversal. Comcast Cable is one of the nation's largest video, high-speed Internet and phone providers to residential customers under the XFINITY brand and also provides these services to businesses. NBCUniversal operates news, entertainment and sports cable networks, the NBC and Telemundo broadcast networks, television production operations, television station groups, Universal Pictures and Universal Parks and Resorts. Visit www.comcastcorporation.com for more information.
With nearly 7,000 local employees, Comcast's Greater Chicago Region (chicago.comcast.com) serves customers in central and northern Illinois, including the Chicago area, northwest Indiana and southwest Michigan.  "Like" Comcast's Greater Chicago Region on Facebook by visiting Comcast of Illinois, NW Indiana and SW Michigan.  "Follow" Comcast's Greater Chicago Region on Twitter at @ComcastIllinois.