Club Is Among Approximately 90 Local Boys & Girls Clubs Across The Country To Receive Technology Grants From Comcast NBCUniversal…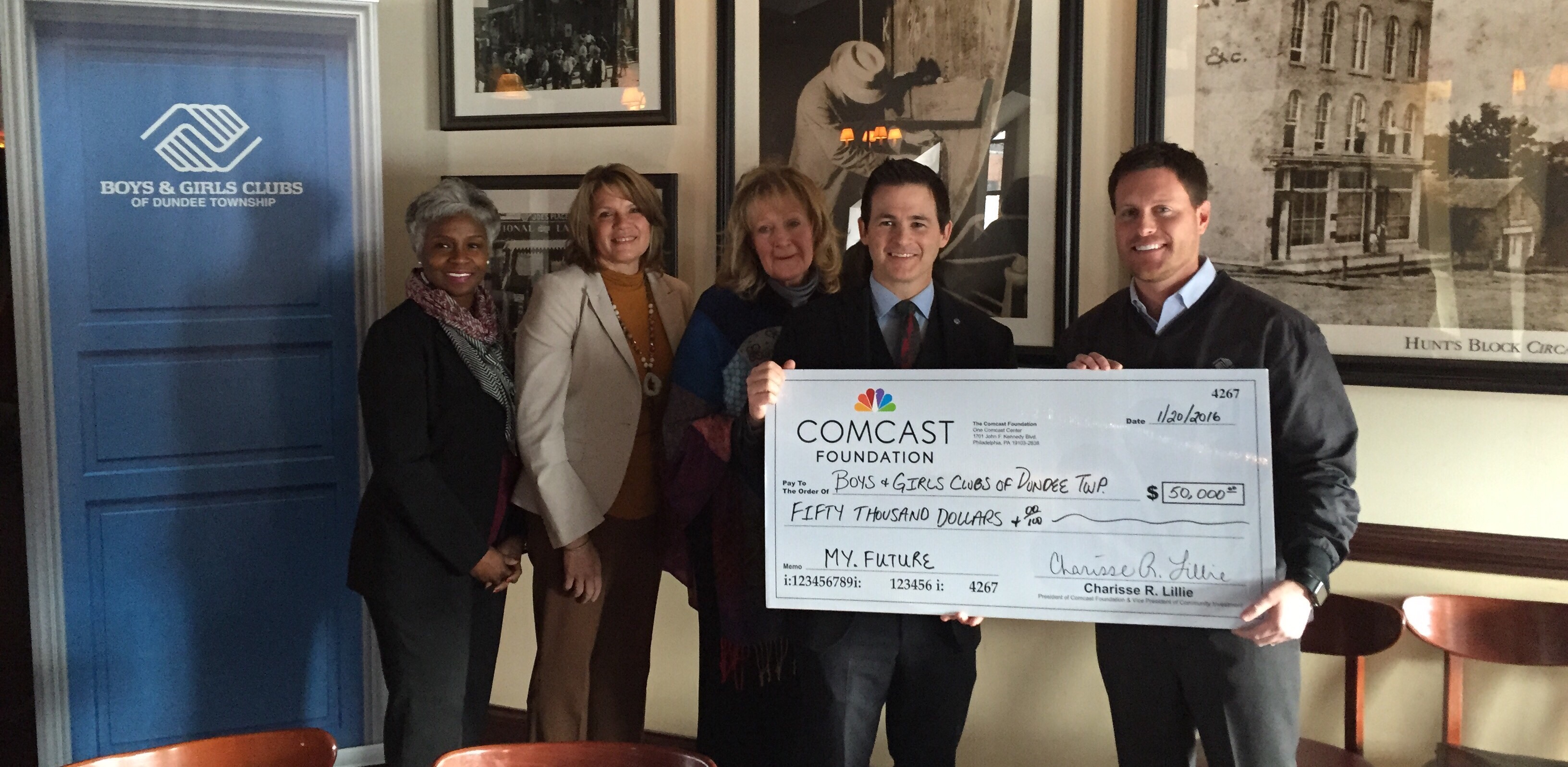 Boys & Girls Clubs of Dundee Township announced today that it received a $50,000 grant from the Comcast Foundation to help expand the My.Future technology initiative, hands-on technology training designed to equip Club kids with the skills needed to compete in a 21st century economy. In celebration of the one-year anniversary of the launch of My.Future, Comcast announced that the grant will provide Club staff with additional training and funding to purchase state-of-the-art equipment including tablets, printers, digital cameras, music studio tools and video-editing technology needed for the Clubs to fully implement and teach the My.Future curriculum.
My.Future is a cutting-edge technology education initiative that provides hands-on experience and enables Boys & Girls Clubs of Dundee Township members to select from more than 40 activities to help them understand how to safely and productively engage online, and identify and develop digital interests – from Internet basics for technology beginners, to robotics, coding, game design and online journalism for advancers learners.
"We are proud to partner with the Comcast Foundation on the My.Future Program, and thank the company for its generous grant," said Curt McReynolds, President and CEO, Boys & Girls Clubs of Dundee Township. "This grant will help Boys & Girls Clubs of Dundee Township members develop the technology skills they need to thrive in today's digital world, while bridging the digital gap that exists for many of our Club members. Because of My.Future, our Boys & Girls Clubs members will have the chance to interact with technology in meaningful ways and prepare for bright futures."
In 2015, the Comcast Foundation invested more than $3 million in Boys and Girls Clubs of America's (BGCA) My.Future technology initiative. BGCA is using $1.5 million to further develop and build-out the My.Future program. The remaining funding is being awarded to approximately 90 local Boys & Girls Clubs across the country, including Boys & Girls Clubs of Dundee Township ensure they have access to the technology, tools and teachers to fully activate the program. The grant is part of Comcast NBCUniversal's five-year partnership with Boys and Girls Clubs of America (BGCA), which was announced last year and is valued at tens of millions of dollars.
Since 2011, Comcast and the Comcast Foundation have dedicated more than $240 million in cash and in-kind support to fund digital readiness initiatives nationwide, reaching nearly 3.2 million people through non-profit, digital literacy partners, including Boys & Girls Clubs of America. Comcast has supported local Boys & Girls Clubs for more than a decade, providing more than $100 million in cash and in-kind contributions.
About Boys & Girls Clubs of Dundee Township
The Boys & Girls Clubs of Dundee Township will celebrate 19 years of serving youth in 2016. Today, as the largest youth serving agency in Carpentersville, BGCDT proudly serves nearly 3,000 at-risk youth annually and ranks as the 2nd largest Boys & Girls Clubs organization in the State of Illinois. The Boys & Girls Clubs of Dundee Township is governed by 32 active Board of Directors, included an additional four (4) Emeritus Board members. BGCDT currently ranks in the top 10% of the country with over 70% of Club members attending the Club on an average daily basis.
About Comcast Corporation
Comcast Corporation (Nasdaq: CMCSA, CMCSK) is a global media and technology company with two primary businesses, Comcast Cable and NBCUniversal. Comcast Cable is one of the nation's largest video, high-speed Internet and phone providers to residential customers under the XFINITY brand and also provides these services to businesses. NBCUniversal operates news, entertainment and sports cable networks, the NBC and Telemundo broadcast networks, television production operations, television station groups, Universal Pictures and Universal Parks and Resorts. Visit www.comcastcorporation.com for more information.
About the Comcast Foundation
The Comcast Foundation was founded by Comcast Corporation in June 1999 to provide charitable support to qualified non-profit organizations. The Foundation primarily invests in programs intended to have a positive, sustainable impact on their communities. The Foundation has three community investment priorities—promoting service, expanding digital literacy, and building tomorrow's leaders. Since its inception, the Comcast Foundation has donated more than $170 million to organizations in the communities nationwide that Comcast serves. More information about the Foundation and its programs is available at www.comcast.com/community.