Program provides kids well-rounded educational curriculum, including STEM, and prepares them to advance in school…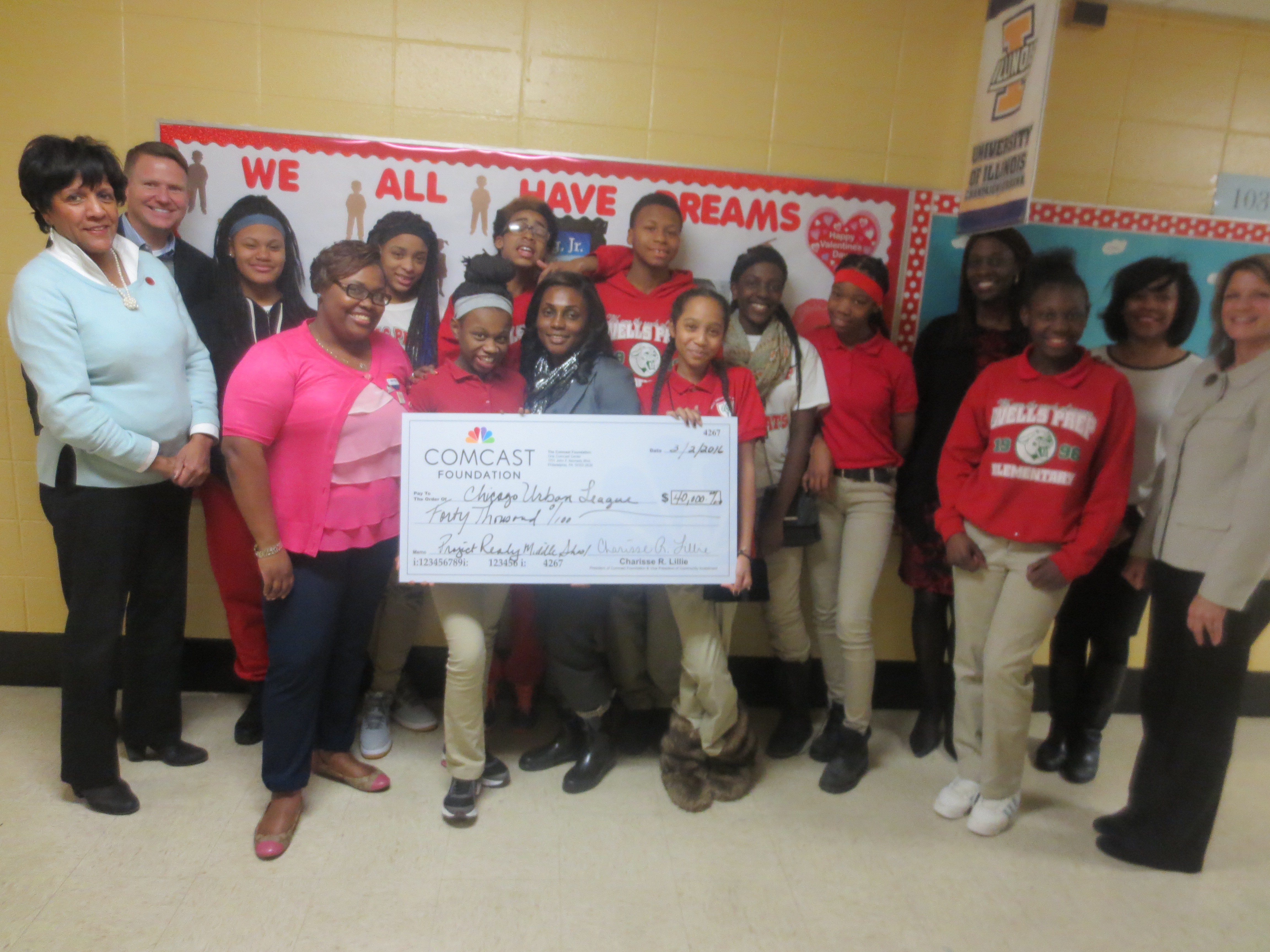 The Chicago Urban League announced today that it received a $40,000 grant from the Comcast Foundation to help support the ongoing implementation of Project Ready – Middle School, an extracurricular youth development and academic enrichment program for middle school students.  The school-based program is designed to prepare students for high school and build an early foundation for college readiness.  Comcast has provided more than $340,000 to the Chicago Urban League since 2005 to support youth development programs like the Project-Ready – Middle School program.
"The Chicago Urban League appreciates Comcast's long-standing support of our Project Ready – Middle School Program," said Shari Runner, Chicago Urban League President and CEO.  "Comcast clearly recognizes the importance of giving young people access to this kind of educational programming and the opportunity it brings."
Middle school students in the program move through four intensive educational modules including high school preparation, financial literacy, health and wellness and STEM (science, technology, engineering and mathematics).  This school-based program currently serves 125 students and operates during the school year at Benjamin E. Mays Elementary Academy, Ida B. Wells Preparatory Elementary Academy, Irvin C. Mollison Elementary, Charles H. Wacker Elementary School and Foundations College Prep in Chicago.
"I like the educational field trips and learning new things, especially science during the STEM module," says participant Mailani.
Since the program's inception, Project Ready-Middle School has served more than 1,000 students, and 100% of the program participants have progressed to the next grade level in a timely manner. The ultimate goal is that upon completion of 8th grade, each participant remains on track for high school graduation.
"Comcast is a media and technology company. We believe that a well-rounded education that includes STEM curriculum is extremely important. That's why we're supporting the Project Ready – Middle School program," said John Crowley, Comcast's regional senior vice president. "Our support for this program is part of a larger multi-faceted effort to develop youth and build tomorrow's leaders."
About the Chicago Urban League
Established in 1916, the Chicago Urban League works for economic, educational and social progress for African Americans and promotes strong sustainable communities through advocacy, collaboration and innovation. For more information, visit www.thechicagourbanleague.org.
About Comcast Corporation
Comcast Corporation (Nasdaq: CMCSA, CMCSK) is a global media and technology company with two primary businesses, Comcast Cable and NBCUniversal. Comcast Cable is one of the nation's largest video, high-speed Internet and phone providers to residential customers under the XFINITY brand and also provides these services to businesses. NBCUniversal operates news, entertainment and sports cable networks, the NBC and Telemundo broadcast networks, television production operations, television station groups, Universal Pictures and Universal Parks and Resorts. Visit www.comcastcorporation.com for more information.
With nearly 7,000 local employees, Comcast's Greater Chicago Region (chicago.comcast.com) serves customers in central and northern Illinois, including the Chicago area, northwest Indiana and southwest Michigan.  "Like" Comcast's Greater Chicago Region on Facebook by visiting Comcast of Illinois, NW Indiana and SW Michigan.  "Follow" Comcast's Greater Chicago Region on Twitter at @ComcastIllinois.
 About the Comcast Foundation
The Comcast Foundation was founded by Comcast Corporation in June 1999 to provide charitable support to qualified non-profit organizations. The Foundation primarily invests in programs intended to have a positive, sustainable impact on their communities. The Foundation has three community investment priorities—promoting service, expanding digital literacy and building tomorrow's leaders. Since its inception, the Comcast Foundation has donated more than $170 million to organizations in the communities nationwide that Comcast serves. More information about the Foundation and its programs is available at www.comcast.com/community.