Club uses $15,000 grant from Comcast Foundation to update its computer lab, provide local kids and families access to computers and technology…
Portage, IN, Mayor James Snyder, Superintendent of Portage Township Schools Dr. Richard Weigel and Comcast representatives joined the Boys & Girls Clubs of Porter County to celebrate the opening of the Club's newly updated computer lab.  The Club received a $15,000 grant from the Comcast Foundation to purchase computer stations, tablets and other equipment to update the lab and open it to community members on specific dates and times to give them access to computers and the Internet.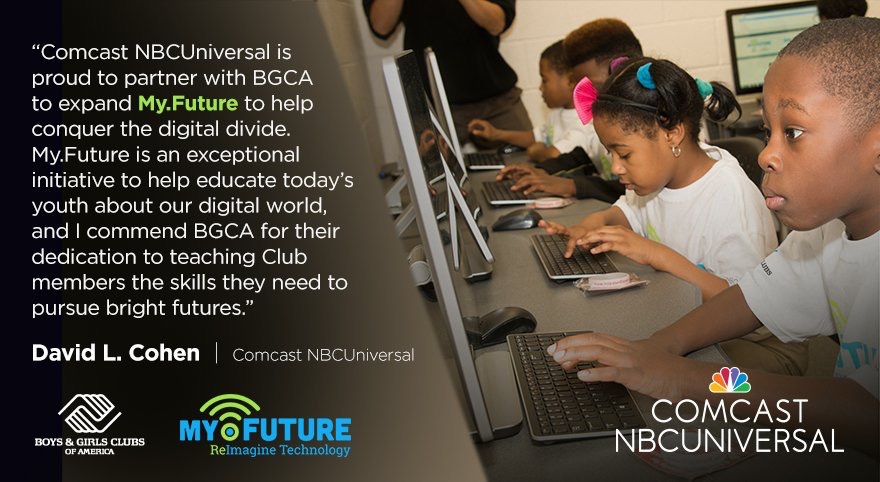 In addition, the grant supported the local launch of the My.Future Technology Initiative, a national joint Boys & Girls Clubs Comcast NBC Universal  technology education program designed to teach Club members gives  how to safely and productively engage on the Internet and identify and develop participants' digital interests – from Internet basics for technology beginners to robotics, coding, game design and online journalism .   Comcast NBCUniversal is serving as My.Future's Presenting Sponsor for five years and is providing tens of millions of dollars in cash and in-kind support.
"We are very excited to partner with Comcast," said Dan Welch, director of Programs and Outcomes for the Boys & Girls Clubs of Porter County. "This partnership with Comcast allows our Club to boost our technology programs, including My.Future, and gives us the opportunity to further advocate for digital literacy by opening our computer lab to community members."
"Comcast is proud to partner with Boys & Girls Clubs of Porter County to provide kids and families access to technology and help them develop the skills they need to succeed in today's digital world." said John Crowley, senior vice president of Comcast's Greater Chicago Region, which includes northwest Indiana.
The Club also is partnering with Portage Township Schools to offer parents monthly working sessions designed to inform them how to use the school's technology resources to track their children's academic progress. .
The Club's newly updated computer lab is open to Portage residents from 12 to 2 p.m. on Tuesdays and Thursdays.
About Boys & Girls Clubs of Porter County
Boys & Girls Clubs of Porter County has been opening doors to GREAT FUTURES for Porter County's youth since 1971. Clubs are open after school and provide a great place for youth in grades K-12 to meet friends and have fun while in a safe, supervised environment. When school is out, our Clubs are in! Clubs are open during holidays and in the summer. Annual membership is only $35.00. Financial assistance is available to those who qualify. For information on membership, volunteer opportunities, or to make a tax deductible donation to Boys & Girls Clubs of Porter County, please contact your local Club, call (219) 464-7282 or visit bgcpoco.org. Great Futures Start HERE.
About Comcast Corporation
Comcast Corporation (Nasdaq: CMCSA, CMCSK) is a global media and technology company with two primary businesses, Comcast Cable and NBCUniversal. Comcast Cable is one of the nation's largest video, high-speed Internet and phone providers to residential customers under the XFINITY brand and also provides these services to businesses. NBCUniversal operates news, entertainment and sports cable networks, the NBC and Telemundo broadcast networks, television production operations, television station groups, Universal Pictures and Universal Parks and Resorts. Visit www.comcastcorporation.com for more information.
With nearly 7,000 local employees, Comcast's Greater Chicago Region (chicago.comcast.com) serves customers in central and northern Illinois, including the Chicago area, northwest Indiana and southwest Michigan.  "Like" Comcast's Greater Chicago Region on Facebook by visiting Comcast of Illinois, NW Indiana and SW Michigan.  "Follow" Comcast's Greater Chicago Region on Twitter at @ComcastIllinois.
About the Comcast Foundation
The Comcast Foundation was founded by Comcast Corporation in June 1999 to provide charitable support to qualified non-profit organizations. The Foundation primarily invests in programs intended to have a positive, sustainable impact on their communities. The Foundation has three community investment priorities—promoting service, expanding digital literacy, and building tomorrow's leaders. Since its inception, the Comcast Foundation has donated more than $170 million to organizations in the communities nationwide that Comcast serves. More information about the Foundation and its programs is available at www.comcast.com/community.