Members of the public are invited to join more than 6,000 local Comcast NBCUniversal employees at nearly 80 volunteer projects across Illinois, NW Indiana and SW Michigan…
Saturday, April 30, is the 15th Annual Comcast Cares Day, the nation's largest single-day corporate volunteer effort.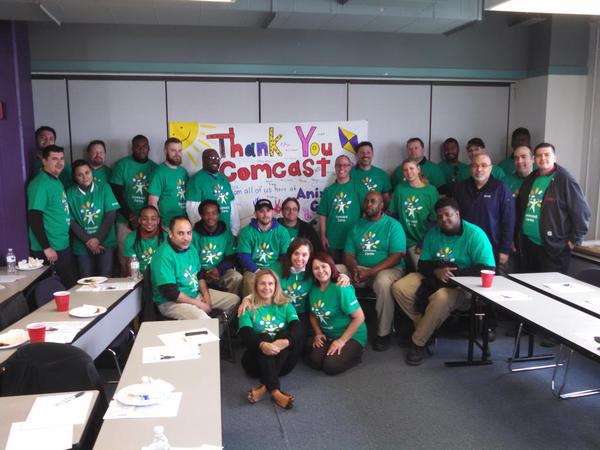 This year, more than 6,000 Greater Chicago Region Comcast NBCUniversal employees and their families, friends and community partners are expected to participate in nearly 80 volunteer projects across Illinois, Northwest Indiana and Southwest Michigan. Worldwide, the Company expects that about 100,000 employees will participate in more than 800 projects.  Since Comcast Cares Day started in 2001, volunteers have participated in nearly 7,000 projects and contributed more than 4 million service hours.
Members of the general public are invited to participate.  To find local projects and sign up to volunteer, visit ComcastintheCommunity.com.
"Comcast Cares Day is my favorite day of the year.  I'm so proud of how employees from across the region – and their families and friends – come out and join partners in their communities to make change happen," said John Crowley, Comcast Greater Chicago Region senior vice president.  "Comcast Cares Day projects are transformational.  Over the years, we've done everything from repairing and painting schools to cleaning up forest preserves, planting gardens and even helping to build houses."
The Comcast Foundation provides grants to community organizations that host projects.  The grants are designed to help them carry out their missions throughout the rest of the year.  To date, the foundation has awarded more than $18 million in grants to participating organizations.
About Comcast Corporation
Comcast Corporation (Nasdaq: CMCSA) is a global media and technology company with two primary businesses, Comcast Cable and NBCUniversal. Comcast Cable is one of the nation's largest video, high-speed Internet and phone providers to residential customers under the XFINITY brand and also provides these services to businesses. NBCUniversal operates news, entertainment and sports cable networks, the NBC and Telemundo broadcast networks, television production operations, television station groups, Universal Pictures and Universal Parks and Resorts. Visit www.comcastcorporation.com for more information.
With nearly 7,000 local employees, Comcast's Greater Chicago Region (chicago.comcast.com) serves customers in central and northern Illinois, including the Chicago area, northwest Indiana and southwest Michigan.  "Like" Comcast's Greater Chicago Region on Facebook by visiting Comcast of Illinois, NW Indiana and SW Michigan.  "Follow" Comcast's Greater Chicago Region on Twitter at @ComcastILLINOIS.
About the Comcast Foundation
The Comcast Foundation was founded by Comcast Corporation in June 1999 to provide charitable support to qualified nonprofit organizations. The Foundation primarily invests in programs intended to have a positive, sustainable impact on their communities. The Foundation has three community investment priorities—expanding digital literacy, promoting community service, and building tomorrow's leaders. Since its inception, the Comcast Foundation has donated $176 million to organizations in the communities nationwide that Comcast serves. More information about the Foundation and its programs is available at www.comcast.com/community.