Exhibit features more than 16 hours of historical moments and firsthand accounts of America's fight for racial equality
Feb. 7, 2019 – The DuSable Museum of African American History joined Comcast NBCUniversal tonight to officially unveil "Voices of the Civil Rights Movement," a new interactive installation that features more than 240 stories and interviews with Chicago and national civil rights icons. All 16-plus hours of video come from Comcast NBCUniversal's award-winning "Voices of the Civil Rights Movement" platform, a multimedia collaboration with the Equal Justice Initiative that honors the legacy and impact of America's civil rights champions.
Comcast joined the DuSable Museum to honor the following six Chicago-based civil rights leaders and debut their video segments at the DuSable Theater:
Timuel Black: Renowned historian and civil rights activist;
Clyde Brooks: Civil rights leader and former President, Southern Christian Leadership Conference in Chicago;
Josie Childs:Founder and President, Harold Washington Legacy Committee;
Jesse L. Jackson, Sr.: Nationally recognized civil rights leader and Founder and President, Rainbow PUSH Coalition;
James Montgomery: Accomplished civil rights attorney; and
Robert Starks: Educator, activist and political consultant.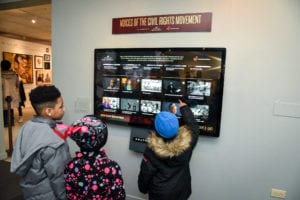 The installation at the DuSable Museum also features interviews with U.S. Rep. John Lewis, former U.N. Ambassador Andrew Young, Little Rock Nine member Carlotta Walls LaNier, Birmingham church bombing survivor Sarah Collins Rudolph, and others. The personal stories collection is enhanced with greater context and research from the Equal Justice Initiative, which partnered with Comcast NBCUniversal to add historical vignettes to the platform.
"We're honored to partner with Comcast NBCUniversal to preserve our history, honor Chicagoans who were part of the civil rights movement, and make sure current and future generations understand and remember our community's struggle for equal rights," said Perri L. Irmer, DuSable Museum President and CEO.
"Comcast NBCUniversal developed the installation to chronicle the lives and experiences of those who fight for the equality of all people," said David L. Cohen, Senior Executive Vice President and Chief Diversity Officer, Comcast Corporation. "We're especially proud to make this exhibit part of the DuSable's permanent collection, celebrate Chicago's rich contributions to our nation's civil rights movement, and enrich the experience of museum visitors as they learn directly from civil rights leaders."
Click here for more information about Comcast NBCUniversal's "Voices of the Civil Rights Movement" platform. Click here for more information about the DuSable Museum of African American History.
About the DuSable Museum of African American History
Founded in 1961 by teacher and art historian Dr. Margaret Burroughs and other leading Chicago citizens, the DuSable Museum of African American History is one of the few independent institutions of its kind in the United States.  Developed to preserve and interpret experiences and achievements of people of African descent, the museum is dedicated to the collection, documentation, preservation and study of the history and culture of Africans and African Americans.  The museum's collection includes 15,000 pieces and includes paintings, sculpture, print works and historical memorabilia.  Special exhibitions, workshops and lectures highlight works by specific artists, historical events or collections on loan from individuals or institutions.
About Comcast Corporation
Comcast Corporation (Nasdaq: CMCSA) is a global media and technology company with three primary businesses:  Comcast Cable, NBCUniversal, and Sky.  Comcast Cable is one of the United States' largest video, high-speed internet, and phone providers to residential customers under the Xfinity brand, and also provides these services to businesses.  It also provides wireless and security and automation services to residential customers under the Xfinity brand.  NBCUniversal is global and operates news, entertainment and sports cable networks, the NBC and Telemundo broadcast networks, television production operations, television station groups, Universal Pictures, and Universal Parks and Resorts.  Sky is one of Europe's leading media and entertainment companies, connecting customers to a broad range of video content through its pay television services.  It also provides communications services, including residential high-speed internet, phone, and wireless services.  Sky operates the Sky News broadcast network and sports and entertainment networks, produces original content, and has exclusive content rights.  Visit www.comcastcorporation.com for more information.