Chicago history, the latest modern design and Xfinity smart home technology come together to give a grand old house a new life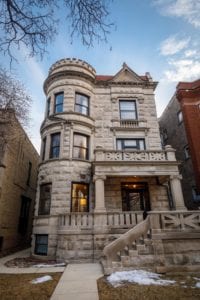 March 7, 2019 – Author and homeowner Stacey Ballis joined Comcast today to unveil the completed renovation of the historic, 8,000-square-foot Ryan Mansion in Chicago's burgeoning Logan Square neighborhood.  Designed by architect John Ahlschlager and completed in 1907, the house was inspired by an Irish castle the original homeowners, Michael and Anna Ryan, recalled from their childhood in Ireland.  Initially built as a three-unit building for the Ryans and their daughters, over the years, the building changed hands and became a rental property.
"A magnificent building inside and out, the Ryan Mansion is a classic example of Chicago architecture from the early 1900s," Ballis said.  "I moved into one of the units in 1993, fell in love with the building immediately and dreamed about buying it, turning it into a single-family home and renovating it."
Stacey's dreams came true in 2013 when she and husband Bill Thurmond bought the home and later began what would become a 4½-year-long renovation project.  According to the couple, their goals were two-fold: to preserve the home's history and character and, at the same time, bring it up to today's standards with the latest technology.  Having a smart home was a priority for the couple, who both work at home, entertain frequently and often have house guests.  They partnered with Xfinity, because they wanted to incorporate communications, entertainment and other technologies robust enough to support all their needs.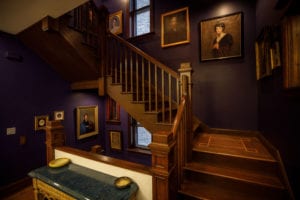 "I got cable TV from Comcast in 1993 when I first moved in and have always been delighted with the service.  I added Comcast's Internet and phone services over the years as they became available," Ballis explained.  "It was really an easy choice for me to remain with Xfinity, because I was a happy customer for more than 20 years.  I wanted best-in-class technology, and I trusted the company to take the house to the next level."
History with an eye toward the future
Ballis and Thurmond had as much of the original floors, woodwork and fixtures restored as possible.  When that wasn't possible, they had custom woodwork designed to match the original woodwork.  In addition, they were able to retain all the original windows, including the historic curved glass windows in the turret and stained-glass windows on the second floor.  They relocated and built a grand staircase that serves the home's four floors, and they added an elevator.
Technology was a significant consideration in the project's design phase.  Because they both work from home, the couple's top priority was fast, reliable Internet service and WiFi capable of reaching every room on each of the home's four floors.  Xfinity xFi Pods ensure that WiFi covers the entire home – no mean feat given its overall size, the number of floors and its limestone, brick and steel-frame construction.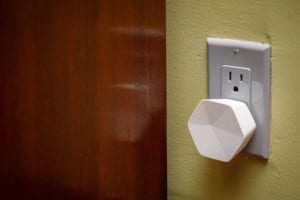 They also wanted the ability to see and control of all the Internet-connected devices in their home, and they wanted advanced digital security that could not only protect their computers, but their growing number of connected devices as well (according to Symantec, the number of attacks against Internet-of-things devices increased by 600 percent between 2016 and 2017 alone).  That's why they chose Xfinity xFi Advantage with xFi Advanced Security, which extends protection beyond PCs, laptops and mobile devices to include newer smart Internet-connected devices. Ballis and Thurmond aren't alone: Nearly 100,000 customers have signed up for xFi Advantage with Advanced Security in the short time since it launched across 12 states in late 2018.
Ballis and Thurmond felt strongly about home security and automation as well, given the size, age and location of the home.  They chose Xfinity Home because they wanted the ability to monitor what's happening both inside and outside the house, and they wanted a system that could integrate seamlessly with their other Xfinity services.  Now, the couple can see who's at the front door on all the TVs in the house and on their computers, tablets and mobile phones.  They can change the temperature in any of the four zones, turn lights on and off and lock and unlock many of the exterior doors from anywhere in the house, as well as remotely.  In addition, they can have the system text them if it detects water in the basement and send them pictures or videos when their doors open or their external cameras detect motion.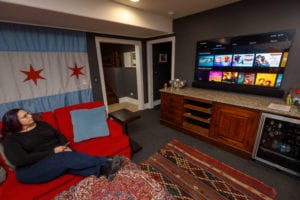 Technology has advanced significantly since Ballis and Thurmond began the project: For example, in 2014, the fastest Internet speed broadly available to residential customers was 100 Mbps.  Today, more than 75% of Xfinity's area residential Internet customers have speeds of 100 Mbps or more.  And the "smart home" concept was just that – a concept.  That's changed rapidly and will continue to grow as the number of connected devices grows and new technologies come into play.  In fact, Cisco estimates that by 2022, there will be more than 13 connected devices per person in North America.  Ballis and Thurmond wanted a platform that could not only deliver what they needed now – it had to be able to support technologies that haven't even been thought of yet.
We love watching TV!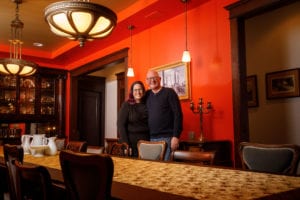 It's not always about work, entertaining and hosting out-of-town guests.  Sometimes, the couple just wants to relax and watch TV.
"We love watching TV, and we love the breadth and depth of content available on Xfinity On Demand.  We also love the X1 (Entertainment Operating System) and the voice remote," Ballis explained.  "You can use the X1 voice remote to search for content, not just on Xfinity, but also on Amazon Prime, Netflix and YouTube, which also are on the platform.  I'm amazed by how many voice commands the voice remote understands and how its 'vocabulary' keeps growing."
"We're proud that Stacey and Bill chose Xfinity to be part of – in what for them – is a once-in-a-lifetime project and labor of love," Jeanine Gubler Heck, Comcast's vice president of Artificial Intelligence Products, said.  In her role, Heck leads the company's efforts to integrate artificial intelligence into Xfinity products and services.  "Through thoughtful design, planning and execution, they were able to retain the house's original character and, at the same time, create a truly unique, one-of-a-kind smart home that seamlessly integrates into their lives.  That's exactly the kind of customer experience we strive for when we design Xfinity products and services."
"This has been more than a project – It's been a journey," Ballis reminisced about the project.  "I love the 'house' and the 'home' Bill and I have created together."