"Adam's Corner" is Designed to Help Comfort Children While a Veteran Loved One Receives Medical Treatment
November 7, 2019 – Today, Hines VA Fisher House debuted its first-ever library and play area for children.  It was created and donated by employees of Comcast NBCUniversal.  The space will be named "Adam's Corner" in honor of Cpl. Adam Garcia, who died while recovering from wounds he suffered while serving in Iraq in 2006.
Cpl. Garcia's mother, Cynthia, an employee of Comcast NBCUniversal, works at Telemundo39 in Fort Worth, Texas.  She and her family stayed at a number of Fisher Houses, both abroad and in the U.S., after her son, Adam, was seriously injured and eventually passed away.  Fisher Houses provide a home away from home for families and caregivers of veterans and active duty military receiving treatment at major military and VA medical facilities.  While staying in them, Cynthia noticed there were many serious, adult conversations, but there was not a comfortable space where her family could be together, and her daughter could go play and just be a kid.  To honor the memory and service of her son and bring a bit of comfort to other military and veterans' families, Cynthia worked to create a dedicated space for families and young children that includes books, board games, movies, and video games.  Called "Adam's Corner," the first two centers were installed at Fisher House locations in her home state of Texas.
Cynthia's Comcast NBCUniversal colleagues across the country, including those in the Chicago area, wanted to further honor her son's memory by bringing additional Adam's Corners to more Fisher House locations.  Members of Comcast's local VetNet employee resource group and the Fisher House Foundation celebrated the opening of the new dedicated space at the Hines VA Fisher House, located at Edward Hines Jr. Veterans Affairs Hospital in Hines, IL.
"Our colleague, Cynthia, is an inspiration to all of us at Comcast NBCUniversal.  We recognize that military service impacts more than those who wear a uniform.  Parents, siblings, children, and friends sacrifice alongside our military service members too.  So, it's our privilege to help bring Adam's Corner to the Chicago area to help comfort even more military and veteran families," said Comcast's local VetNet leader Anthony Common.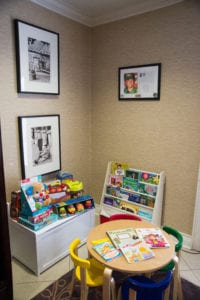 "Hines Fisher House is honored to be a site chosen to receive an 'Adam's Corner,'" said Holly Wright, Fisher House Manager. "The children who stay here will be able to just be kids and enjoy the toys and books provided by the generosity of Comcast. It is so important to have an outlet for them as they are trying to deal with the stress of their Veterans illness or injury. This will be a tremendous addition to healing provided by our Fisher House."
Fisher Houses are in 84 locations across the country.  They provide accommodations at no cost to guests and are located within walking distance of hospitals and medical treatment facilities.  Since the Fisher House program's inception, the foundation has delivered approximately 9 million nights of lodging and have saved military and veteran families an estimated $451 million in out of pocket expenses.
Comcast NBCUniversal is grateful for our military community for its dedication to our country.  We are honored to hire and partner with veterans, National Guard and Reserve members, and military spouses.  As one of America's most military-friendly employers, we are proud of our commitment to hire at least 21,000 members of the military community by the end of 2021 and of the extra support and flexibility we offer to our National Guard and Reserve employees and their families to help them balance their civilian and military commitments.  Comcast NBCUniversal's VetNet employee resource group is 8,500 members strong with a focus on professional development, mentorship, and volunteerism.