Improved infrastructure offers high-speed internet and advanced technology; ensures tenants can compete on a local, regional and national level 
October 6, 2021 – Somerset Development, one of the real estate industry's foremost innovators in large-scale, mixed-use redevelopments, today announced Comcast Business has completed the expansion of its advanced network infrastructure at Bell Works Chicagoland.
With the nation's largest gig-speed network, Comcast is able to provide businesses at the Bell Works campus access to high-speed internet along with a wide range of advanced commercial services including ethernet, internet, advanced voice and value-added cloud services.
"Comcast's advanced technology and high-speed internet is an incredibly valuable asset to Bell Works Chicagoland," said Joel Shandelman, Director of Technology and Energy at Somerset Development. "In today's digitally driven world, connectivity is crucial, and so it made perfect sense to partner with Comcast, a company that has been consistently on the forefront of connection for the last half-century. It's critical that our technological infrastructure be able to support the growing list of tenants calling our campus home, and this expansion ensures their needs will continue to be met."
"The transformation of the campus into a mixed-use 'metroburb' with an urban core is a major undertaking that requires innovative thinking," said Hoffman Estates Mayor Bill McLeod. "Connectivity is at the forefront of urban planning and real estate development, and I'm pleased to see Somerset and Comcast partner to create a model for the role of technology in next generation developments right here in Hoffman Estates."
Thanks to Comcast's proactive approach and the newly expanded network, small, medium, and large businesses located at Bell Works Chicagoland have access to internet speeds of up to 100 Gigabits per second (Gbps). The high-speed internet will help companies on campus conduct business and compete locally, regionally, and nationally.
"Without question, reliable connectivity is more important than ever before, and absolutely essential to conducting business effectively and efficiently," said Sean McCarthy, Comcast's Regional Vice President of Business Development and Strategic Initiatives. "Having access to the most advanced technology services and fastest internet speeds not only positions business on campus for success, it also enables Bell Works Chicagoland to continue to attract more and more quality tenants – especially those that require support for high-bandwidth activities."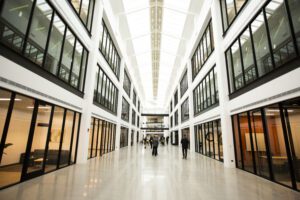 Comcast Business services extend throughout Bell Works' 1.65-million square-foot development, which can accommodate up to 5,000 employees. The expansion is designed to make Bell Works Chicagoland even more attractive to both businesses and visitors.
Additional services available to Bell Works' tenants as a result of the Comcast network expansion include:
ActiveCoreSM SDN, a software-defined networking (SDN) platform providing businesses intelligent, centralized control for their networks via software applications like Managed Router and SD-WAN.
Cybersecurity Services, reducing vulnerability to denial of service (DDoS) attacks and helping protect business infrastructure with managed security solutions; and
Comcast Business VoiceEdgeTM, a fully managed, scalable cloud-based voice system providing unified communications (UC) tools that can improve communication, enhance collaboration and help businesses increase productivity."
Previous to Bell Works Chicagoland, Comcast Business also played an instrumental role at Bell Works New Jersey, the first iteration of the metroburb spanning 2 million square-feet, located in Holmdel, N.J. In 2017, Comcast brought world-class solutions to Bell Works New Jersey to support every type of tenant's technological needs and built out a gig-speed fiber network with enough flexibility to cater to both existing and future tenants. As a result, all tenants have access to Comcast Business products and services, and new tenants can be up and running quickly with little turnaround time required.
To learn more about Bell Works Chicagoland, visit bell.works/chicagoland.
About Somerset Development
Somerset Development is a leading real estate developer focusing on large-scale transit oriented and brownfield redevelopment projects headquartered in New Jersey, led by a team of principals with more than 40 years of development experience. The company has positioned itself as one of the region's foremost real estate firms specializing in innovative mixed use and adaptive reuse projects, including the planning and development of Traditional Neighborhood Design communities that evoke a strong sense of place and reflect a distinctive character.
With several high profile, large-scale redevelopment and development projects under construction or in the planning stages, Somerset has earned a quality reputation for its unwavering commitment to excellence through responsible development practices. For more information on Somerset Development, contact the company by calling (732) 367-2828 or via the company's website at www.SDNJ.com.
About Comcast Business
Comcast Business offers a suite of Connectivity, Communications, Networking, Cybersecurity, Wireless, and Managed Solutions to help organizations of different sizes prepare for what's next. Powered by the nation's largest Gig-speed broadband network, and backed by 24/7 customer support, Comcast Business is the nation's largest cable provider to small and mid-size businesses and one of the leading service providers to the Enterprise market. Comcast Business has been consistently recognized by industry analysts and associations as a leader and innovator, and one of the fastest growing providers of Ethernet services.
For more information, call 866-429-3085. Follow on Twitter @ComcastBusiness and on other social media networks at http://business.comcast.com/social.
With around 6,000 local employees, Comcast's Greater Chicago Region (https://chicago.comcast.com) serves customers in central and Illinois, including the Chicago area, Northwest Indiana and Southwest Michigan. "Like" Comcast's Greater Chicago Region on Facebook by visiting @Comcast. "Follow" Comcast's Greater Chicago Region on Twitter at @ComcastIllinois.