Internet Essentials has helped 1.3 million+ low-income Illinoisans connect to the Internet at home since 2011
October 7, 2021 – Comcast today began the Illinois Digital Equity Tour, a week-long tour of locations across Illinois to promote digital equity. The timing of the tour is in line with the 10th anniversary of Internet Essentials, Comcast's low-cost broadband adoption program for low-income households with grammar, high school, and college students; seniors; veterans; people with disabilities, and public housing residents enrolled in public assistance programs, ranging from Medicaid, the Supplemental Nutrition Assistance Program (SNAP) and the National School Lunch Program (NSLP) to the federal Supplemental Security Income (SSI) and housing assistance programs. Since its launch in 2011, Internet Essentials has connected more than 10 million Americans to the Internet at home – more than 1.3 million in Illinois alone.
Over the course of the tour, Comcast will deliver a total of 500 laptops and $50,000 in funds to community-based organizations (CBO) in five locations in Central and Northern Illinois to support digital skills training and related activities designed to close the digital divide. The tour runs from today through Thursday, October 14, and includes stops at CBOs in Chicago's south suburbs, Champaign, Decatur, Rockford, and Springfield.
The first stop was today in south suburban Dolton with Mentoring Youth Through Technology (MYTT), whose mission is to educate and mentor youth through science, technology, engineering, and math (STEM) programs. Comcast announced a $10,000 contribution to MYTT to fund after-school technology training programs in the south suburbs. In addition, Comcast announced the donation of 100 laptops to MYTT students. The laptops will be awarded to students who recently completed MYTT's after-school STEM training programs in Dolton and other south suburban communities.
"Partnerships between government, the private sector and communities are the most effective way to make digital equity a reality," said Illinois Second Congressional District Representative Robin Kelly. "Mentoring Youth Through Technology has helped more than 1,000 kids in Chicagoland prepare for their futures. I appreciate Comcast's continued support of MYTT and, overall, its consistent long-term efforts to close the digital divide."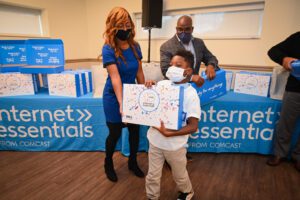 "This is a major investment in the future of Dolton's children and an exciting day for the village as a whole," said Dolton Mayor Tiffany Henyard. "I can't thank MYTT enough for the work it's doing to change lives and Comcast for helping MYTT deliver on its mission."
"Comcast's support over the years has helped us unlock the imaginations of more than a thousand of at-risk youth in underserved south suburban communities and help them see tomorrow's possibilities through virtual STEM learning," added Randle Carter, MYTT Executive Director.
Project UP – Building a Future of Unlimited Possibilities
For over a decade, connecting more people to the Internet and the technology they need to participate and excel in an increasingly digital world has been a core focus for Comcast. Looking toward the next ten years, Comcast is building on that foundation and expanding its impact through Project UP, a comprehensive initiative to advance digital equity and help build a future of unlimited possibilities. This week's tour to promote digital equity in Illinois is part of Project UP.
Backed by a $1 billion commitment to reach 50 million people, Project UP encompasses the programs and community partnerships across Comcast, NBCUniversal and Sky that connect people to the Internet, advance economic mobility and open doors for the next generation of innovators, entrepreneurs, storytellers and creators. For more information on Project UP and the latest news on Comcast's efforts to address digital inequities, visit https://corporate.comcast.com/impact/project-up.
"Project UP is an unprecedented commitment to not only continue the work we've been doing to bring about digital equity, but deepen it," said John Crowley, Comcast Greater Chicago Region Senior Vice President. "Our goal is to partner with stakeholders in the communities we serve to help people access the Internet at home and in their communities so they can build the digital skills they need to succeed in school and in the workforce."
About Internet Essentials
Internet Essentials is Comcast's signature digital equity initiative and the nation's largest and most comprehensive broadband adoption program. In 10 years, it has helped connect 10 million low-income Americans to broadband Internet at home, most for the very first time. It has a comprehensive design that addresses each of the three major barriers to broadband adoption. This includes multiple options to access free digital literacy training in print, online, and in person; the option to purchase a heavily subsidized, low-cost Internet-ready computer; and low-cost, high-speed Internet service for $9.95 a month, plus tax. The program is structured as a partnership between Comcast and tens of thousands of school districts, libraries, elected officials and nonprofit community partners. For more information about Internet Essentials and Comcast's commitment to education and digital equity, please visit https://corporate.comcast.com/education. To apply, visit www.internetessentials.com or call 1-855-846-8376 for English or 1-855-765-6995 for Spanish.
About Comcast
Comcast Corporation (Nasdaq: CMCSA) is a global media and technology company that connects people to moments that matter. We are principally focused on broadband, aggregation, and streaming with over 56 million customer relationships across the United States and Europe. We deliver broadband, wireless, and video through our Xfinity, Comcast Business, and Sky brands; create, distribute, and stream leading entertainment, sports, and news through Universal Filmed Entertainment Group, Universal Studio Group, Sky Studios, the NBC and Telemundo broadcast networks, multiple cable networks, Peacock, NBCUniversal News Group, NBC Sports, Sky News, and Sky Sports; and provide memorable experiences at Universal Parks and Resorts in the United States and Asia. Visit www.comcastcorporation.com for more information.
With nearly 6,000 local employees, Comcast's Greater Chicago Region
(https://chicago.comcast.com) serves customers in central and northern Illinois, including the Chicago area, northwest Indiana and southwest Michigan. "Like" Comcast's Greater Chicago Region on Facebook by visiting @Comcast. "Follow" Comcast's Greater Chicago Region on Twitter at @ComcastIllinois.