McCarthy to represent Comcast in bringing economic development to Illinois
June 29, 2022 – Intersect Illinois today announced that Sean McCarthy, vice president of business development and strategic initiatives for Comcast's Greater Chicago Region, has joined its board of directors. At Comcast, McCarthy is responsible for driving economic development by partnering with counties, municipalities and developers throughout the region, focusing on connectivity and innovation.
"Connectivity is essential in attracting companies, and we are pleased to welcome Comcast's insight as we further integrate connectivity and innovation into our efforts to bring economic growth and jobs to Illinois," said Intersect Illinois CEO Dan Seals. "Sean McCarthy will be a tremendous asset as we work with communities throughout Illinois on these business attraction efforts."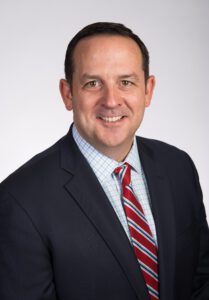 "Comcast is more than a service provider. We're an economic development partner. We're also your friends, neighbors and colleagues, and we share a future," said McCarthy. "We're proud to be a part of Intersect Illinois and support its mission to bring new jobs, investment and economic prosperity to our great state."
In addition to working with partners throughout the state in his role at Comcast, McCarthy is responsible for identifying and developing strategic business initiatives, driving economic development, expanding access to broadband and incorporating innovation into real estate development and other projects. Prior to Comcast, McCarthy served as the director of the Illinois Department of Commerce, where he worked to grow the state's economy, create jobs and position Illinois as a top global business destination. He has also worked in the Office of the Governor where he oversaw policy for five state agencies.
One of the largest high-speed Internet, video, mobile, voice, security and automation providers in the nation, Comcast is committed to Illinois and works to strengthen the state's economy, communities and neighborhoods. Comcast's Greater Chicago Region has nearly 6,000 employees and serves customers in Central and Northern Illinois, including the Chicago area, Northwest Indiana and Southwest Michigan.
"Sean McCarthy's vast experience in economic development throughout Illinois and his work driving inclusive development will benefit Intersect Illinois as we continue on our mission to bring economic growth and jobs to the state," said Intersect Illinois board chairman and Loop Capital CEO Jim Reynolds.
Intersect Illinois' engaged board of directors helps the organization generate public good with private sector efficiency. The organization makes the case for doing business in Illinois, both across the country and around the world. Intersect Illinois assists companies that are considering Illinois in finding the perfect site, while also providing research and analysis to regional and local economic development organizations throughout the state.
McCarthy joins board members from companies including A. Lucas & Sons, Ameren Illinois, ADM, Carle Health, ComEd, 8 Hospitality Group, Illinois Manufacturing Excellence Center, Illinois REALTORS, Loop Capital, Nicor Gas, OSF Healthcare and the University of Illinois System.
###
INTERSECT ILLINOIS is the only statewide economic development organization focused on bringing new jobs and investment to the state. Intersect collaborates with industry, academic and government partners throughout the state. To date, Intersect Illinois has helped bring over 15,800 jobs and $4.7 billion in investment to Illinois.