Comcast is helping Bloomington meet its current and future connectivity needs and close the digital divide
Bloomington doesn't need expensive, complex plans to meet its current and future connectivity needs or close the digital divide. The solutions are already in place:
Bloomington is a "Gigabit City." Comcast's network reaches all the residential neighborhoods in the in the city, giving them access to Gigabit+ broadband Internet service, as well as our digital equity programs.
The federal Affordable Connectivity Program (ACP) can cover the cost of Internet Essentials, Comcast's low-cost Internet service for low-income families, and subsidize the cost of Comcast's and other Internet and mobile plans available in Bloomington.
Gigabit+ Internet speeds in Bloomington
Comcast's 750 miles of fiber-rich network infrastructure in Bloomington allow us to deliver residential download speeds up to 1.2 Gigabits per second (Gbps) — up to 6 Gbps in many locations — and commercial speeds up to 100 Gbps. In addition, we have more than 13,000 WiFi hotspots in Bloomington and more than 20 million nationwide.
We invest in our network to stay ahead of demand, support new technologies and accommodate changing lifestyles, and we invest in the communities we serve
Over the past decade, Comcast has invested $30 billion in technology and network infrastructure nationally – $1.3 billion over the last three years in Illinois alone – to deliver an even greater customer experience, increase reliability and speeds and double network capacity every 2.5 years to stay ahead of growing demand, an explosion of new devices and technologies and more people than ever working and going to school at home and on the go. Comcast recently announced plans to deliver even faster speeds in the future, and work is underway.
Comcast has committed $1 billion over the next 10 years to bring about digital equity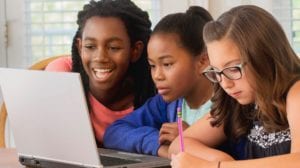 Project UP is a comprehensive 10-year, $1 billion Comcast initiative designed to advance digital equity and help build a future of unlimited possibilities. Internet Essentials, Project UP's centerpiece, provides low-cost Internet service, digital skills training and subsidized computers to eligible low-income households. Internet Essentials is available to students of all ages from grammar school to college, seniors, veterans, people with disabilities and public housing residents enrolled in public assistance programs, ranging from Medicaid to SNAP. The program has helped more than 1.6 million Illinois residents access the Internet at home since it was launched in 2011. Comcast is participating in the ACP, which provides eligible low-income households a credit up to $30 a month toward the cost of Internet and mobile service, including all of Comcast's Xfinity Internet and Xfinity Mobile plans, as well as Internet Essentials.
We're part of your community
Comcast is proud to serve Bloomington. We're more than just your Internet Service Provider. We're your friends, neighbors and coworkers, and we share a future. For more information, e-mail economic_development@comcast.com.