Lift Zones provide safe spaces where students can access the Internet for schoolwork and adults can come to build digital skills 
20 local families receive laptops from Comcast donation
December 7, 2022– Comcast announced today that it has donated $5,000 to the Kishwaukee Family YMCA in Sycamore, IL, to support digital skills training at the organization's Lift Zone, which Comcast opened onsite in June 2021. Lift Zones are WiFi-connected safe spaces where students can get online to do schoolwork and adults can get online to learn new digital skills, search for jobs and access an array of services.
In addition, Comcast also donated 20 new laptops to the Kishwaukee Family YMCA and its partner non-profit organization Neighbors' House as part of the company's digital equity efforts in DeKalb County.
"We appreciate Comcast's continued efforts to advance digital equity in our communities," said Suzanne Willis, DeKalb County Board Chair.  "Collaborations between government, community-based organizations and the private sector are crucial to closing the digital divide."
"Comcast's continued partnership and support helps us deliver on our mission, which is to enrich the lives of families and children in our community," said Kishwaukee Family Interim CEO Brian Bickner. "The Lift Zone, digital skills training and laptops are all important tools to help them succeed in today's increasingly digital world."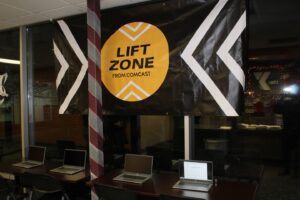 The Kishwaukee Family YMCA Lift Zone is one of more than 1,000 Lift Zones throughout the country, nearly 90 in this region alone. The Lift Zones complement Comcast's Internet Essentials program, a low-cost Internet adoption program for low-income families, which has helped more than 10 million people in America – 1.6 million in Illinois – connect to the Internet at home since it was launched in 2011.
"Through Internet Essentials, Comcast has helped hundreds of thousands of Illinois households cross the digital divide," said John Crowley, Comcast's Greater Chicago Region Senior Vice President. "I'm proud that Comcast recognized the impact of the digital divide early on, stepped up and now continues to offer solutions that further our commitment to organizations like the Kishwaukee Family YMCA and the people and communities they serve through the creation of Lift Zones."
Crowley also noted that the federal government launched a digital equity initiative called the "Affordable Connectivity Program" (ACP), which provides eligible low-income households a credit up to $30 a month toward the cost of Internet and/or mobile phone services, including all of Comcast's Xfinity Internet and Xfinity Mobile plans, as well as Internet Essentials. For more information, visit www.xfinity.com/acp.
Project UP and Comcast's $1 Billion Commitment to Advance Digital Equity
For over a decade, connecting more people to the Internet and the technology they need to participate and excel in an increasingly digital world has been one of Comcast's top priorities. Looking toward the next ten years, Comcast is building on that foundation and expanding its impact through Project UP, a comprehensive initiative to advance digital equity and help build a future of unlimited possibilities.
Backed by a $1 billion commitment to reach 50 million people, Project UP encompasses the programs and community partnerships across Comcast, NBCUniversal and Sky that connect people to the Internet, advance economic mobility and open doors for the next generation of innovators, entrepreneurs, storytellers and creators. For more information on Project UP, visit http://corporate.comcast.com/impact/project-up.
About the Kishwaukee Family YMCA
Established in 1957, the Kishwaukee Family YMCA is a charitable organization whose mission is to enrich the Spirit, Mind and Body of all those in our community, especially families and children, regardless of ability to pay. Its main areas of focus are Youth Development, Healthy Living and Social Responsibility. Its core values are Caring, Honesty, Respect and Responsibility.
About Comcast Corporation
Comcast Corporation (Nasdaq: CMCSA) is a global media and technology company that connects people to moments that matter. We are principally focused on broadband, aggregation, and streaming with over 56 million customer relationships across the United States and Europe. We deliver broadband, wireless, and video through our Xfinity, Comcast Business, and Sky brands; create, distribute, and stream leading entertainment, sports, and news through Universal Filmed Entertainment Group, Universal Studio Group, Sky Studios, the NBC and Telemundo broadcast networks, multiple cable networks, Peacock, NBCUniversal News Group, NBC Sports, Sky News, and Sky Sports; and provide memorable experiences at Universal Parks and Resorts in the United States and Asia. Visit www.comcastcorporation.com for more information.
With nearly 5,000 local employees, Comcast's Greater Chicago Region
(https://chicago.comcast.com) serves customers in central and northern Illinois, including the Chicago area, Northwest Indiana and Southwest Michigan. "Like" Comcast's Greater Chicago Region on Facebook by visiting @Comcast. "Follow" Comcast's Greater Chicago Region on Twitter at @ComcastIllinois.