Future of McLean County Relies on Increasing Digital Equity, Building a Next Generation Workforce 
April 18, 2023 – Bloomington-Normal area business and community leaders joined Comcast Tuesday for a roundtable discussion about the once-in-a-generation opportunity to bring reliable, high-quality, high-speed Internet service to rural and underserved areas, saying McLean County's economic future depends on embracing tools to grow digital equity and build a new generation workforce.
Between federal stimulus dollars and various state and county programs, nearly $50 billion is available nationwide to ensure more people can connect to broadband Internet service, which is vital to attracting new businesses to the region, helping children and adults develop important digital skills, and driving overall economic growth.
"The pandemic showed just how important Internet access and digital skills are to the vitality of Illinois communities, especially in areas like Bloomington-Normal, which are seeking to attract and retain a modern workforce amid a boom in industry," said Sean McCarthy, Comcast's Regional Vice President of Strategic Initiatives. "We are facing a historic opportunity to make sure more Illinoisans can connect to broadband Internet service and build the skills they need to succeed in school, at work and in life. As we wait for these investments to roll out, we want to spread the word about programs to make the Internet more affordable. Whether you're a college student just starting out, or a family juggling daily demands, there's a program available to help you."
Panelists discussed the following ways to achieve digital equity, including:
Build and expand state-of-the-art telecommunications networks in rural and other areas that don't already have access to broadband Internet service;
Educate low-income residents about the federal Affordable Connectivity Program (ACP), which can fully or partially cover the cost of broadband Internet service that's already available or coming to communities in McLean County (the ACP provides eligible households up to $30/month toward the cost of their Internet and/or mobile service bills); and
Help students develop the digital skills they need to succeed in school and adults develop the digital skills they need to succeed in the workforce.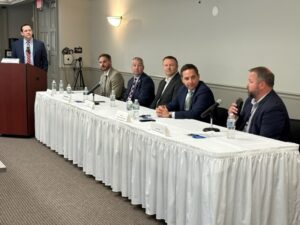 During the panel, participants discussed the importance of broadband Internet connectivity and digital skills to everything from job creation and economic development to overall quality of life, the future of rural communities, providing meaningful health care access and unlocking the potential of every McLean County resident, regardless of their zip code.