Rockford is a Gigabit+ City: Xfinity 10G Network delivers Gigabit+ Internet speeds to virtually all of Rockford, regardless of the zip code
July 24, 2023 – Comcast announced today that its Xfinity 10G Network has surpassed 1,500 miles in length in Rockford. The network delivers speeds up to 1.2 Gbps to virtually all households in the city, regardless of the zip code, and can deliver speeds up to 10 Gbps to homes on request and up to 100 Gbps to local businesses. The network also includes nearly 17,000 WiFi hotspots in Rockford – 22 million nationwide – so customers also can connect on the go.
"The sheer size and scope of our network and the infrastructure and technology that power it allow us to deliver Gigabit+ Internet speeds and all our other state-of-the-art telecommunications services to residences and businesses across Rockford, regardless of the neighborhood," said Joan Sage, Comcast's local Community Relations Manager. "The Internet speeds and services Comcast offers locally can accommodate all the online needs of Rockford households – from streaming and gaming to remote work and learning – and can help Rockford attract and retain all types and sizes of businesses."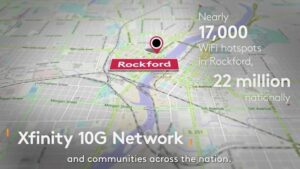 Sage explained that maintaining and upgrading the Xfinity 10G Network require ongoing investment. To these ends, Comcast has invested $30 billion in technology and network infrastructure nationally over the last decade – $1.4 billion over the last three in Illinois alone – to allow the company to deliver an even greater customer experience, increase reliability and speeds and double network capacity every 2.5 years to stay ahead of growing demand, an explosion of Internet-connected devices and technologies and more people than ever working and going to school remotely and on the go.
"Comcast is more than a service provider. We're your neighbors, your friends and your coworkers, and we're part of the community," Sage said. "The services we provide drive economic growth and play a role in Rockford's overall quality of life. We take our legacy and our responsibilities very seriously and are committed to the city and all its residents for the long term."
Comcast is committed to bridging the digital divide
Started in 2011, Comcast's Internet Essentials program provides low-cost Internet service, digital skills training and subsidized computers to eligible low-income households. Internet Essentials and Internet Essentials Plus are available to students of all ages – from grammar school to college – senior citizens, veterans and people with disabilities enrolled in public assistance programs, ranging from Medicaid to SNAP, as well as public housing residents. The program has helped 1.9 million Illinois residents to access the Internet at home since 2011.
Comcast participates in the federal Affordable Connectivity Program (ACP), which provides eligible low-income households a credit of up to $30 a month toward the cost of Internet and/or mobile service, including all of Comcast's Xfinity Internet and Xfinity Mobile plans, in addition to Internet Essentials and Internet Essentials Plus. Internet Essentials and Internet Essentials are free after applying the monthly $30 ACP credit.
"Because our network reaches virtually the entire city, broadband Internet service is available to households of all income levels across Rockford," Sage said. "And because ACP can cover the cost of services like Internet Essentials, eligible low-income Rockford households can get their service for free."
Powered by the Xfinity 10G Network
Comcast's network and Internet experience are powering homes and businesses today and into the future:
Ultimate Capacity: Xfinity customers connect nearly 1 billion devices across the company's network annually. The Xfinity 10G Network with the next-generation Xfinity gateways deliver the most advanced WiFi technology carrying three times more bandwidth to power streaming, gaming, videoconferencing, and more, simultaneously.
Fastest Internet: More than a third of Xfinity Internet customers subscribe to gigabit speed products, and symmetrical gig speeds are planned to come to the first homes later this year.
Unprecedented Coverage: The latest Xfinity Gateway provides a more reliable connection throughout the home. Customers can get wall-to-wall WiFi coverage with a powerful Xfinity WiFi Boost Pod that extends coverage to hard-to-reach areas, with plans for an offering of increased support for in-home WiFi through a "boost guarantee" later this year.
Most Reliable Connection: Comcast is scaling the nation's largest and most reliable network – the Xfinity 10G Network – that passes 60 million homes and businesses and counting. The company plans to launch a new device that is "storm ready" with cellular and battery backup to help keep customers connected even when the power goes out.
Ultra-Low Latency: The Xfinity 10G Network and the latest Xfinity Gateway are a powerful combination that deliver ultra-low latency for those moments when response times matter most like video games, a fast-growing category with Xfinity households averaging more than one gaming console per home.
Recently, Comcast accelerated the transformation of its network to a cloud-based architecture that is fully prepared for robust 10G technologies and DOCSIS 4.0. This network architecture will enable Comcast to deliver symmetrical, multi-gigabit speeds to both residential and business customers, services that technically limited fixed wireless providers will not be able to deliver. Comcast's ongoing network evolution also furthers its commitment to provide a cleaner, greener Internet by doubling network energy efficiency by 2030. Comcast estimates this will avoid the equivalent amount of electricity needed to power a half a million homes for a year.
Click here for more information about Comcast's commitment to Rockford.
About Comcast Corporation
Comcast Corporation (Nasdaq: CMCSA) is a global media and technology company. From the connectivity and platforms we provide, to the content and experiences we create, our businesses reach hundreds of millions of customers, viewers, and guests worldwide. We deliver world-class broadband, wireless, and video through Xfinity, Comcast Business, and Sky; produce, distribute, and stream leading entertainment, sports, and news through brands including NBC, Telemundo, Universal, Peacock, and Sky; and bring incredible theme parks and attractions to life through Universal Destinations & Experiences. Visit www.comcastcorporation.com for more information.