Training will help youth build the skills they need to prepare for and succeed in the workforce
August 9, 2023 – Comcast announced today that it has awarded the Boys & Girls Clubs of Central Illinois (BGCCIL) and the Springfield Urban League (SUL) $10,000 grants to support digital skills training. The BGCCIL will use the funds to support the club's Career Launch Program, which provides digital and workforce development training to prepare teen members for the workforce. The SUL will use the funds to support its STEAM robotics program, which equips Springfield youth with educational and digital skills to help prepare them for careers in robotics.
A recent National Skills Coalition (NSC) report found that 90 percent of jobs in Illinois require digital skills; yet one-third of U.S. workers don't have the foundational digital skills they need to enter and thrive in today's workforce. Together, these findings point to a significant digital skills divide. The report also found that closing the digital skills divide can increase workers' income and reduce costs for employers associated with workforce turnover.
"We are proud to continue to partner with Comcast in its long-standing efforts to advance digital equity," said Tiffany Mathis, BGCCIL CEO & Executive Director. "Broadband access and digital skills help youth succeed while in school and sets them up to excel in our ever-increasing digital economy."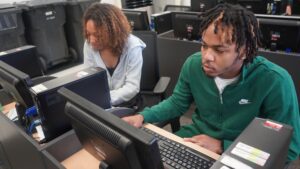 "We live in a time where digital skills are not just a convenience, it's a necessity. It is imperative that we encourage our youth and our communities to fully participate in an increasingly technology-oriented world," said Marcus Johnson, SUL President & CEO. "We are profoundly grateful to Comcast. Their commitment not only amplifies our ability to deliver on our mission but also symbolizes a shared belief in the transformative power of technology and education."
The grants are part of Project UP, Comcast's 10-year, $1 billion initiative to advance digital equity and help build a future of unlimited possibilities. One of Project UP's centerpieces is Internet Essentials, a low-cost Internet adoption program for eligible low-income households, which has helped 1.9 million people in Illinois connect to the Internet at home since it launched in 2011.
"Through Internet Essentials, Comcast has helped hundreds of thousands of income-constrained Illinois households bridge the digital divide," said Carl Jones, Jr., Comcast's Regional Vice President of Government and External Affairs. "I'm proud that Comcast was a pioneer in efforts to close the digital divide early on and continues to make investments and offer solutions that further our commitment to the communities we serve through Project UP."
Jones also noted that the "Affordable Connectivity Program" (ACP), a federal digital equity initiative, provides eligible low-income households a credit of up to $30 a month toward the cost of Internet and/or mobile phone service, including all of Comcast's Xfinity Internet and Xfinity Mobile plans, as well as Internet Essentials. For more information, visit www.xfinity.com/acp.
About Boys & Girls Clubs of Central Illinois
Boys & Girls Clubs of Central Illinois is positioned to serve more than 2,500 youth at our Central Unit and 21 elementary and middle schools covering two counties (Sangamon & Morgan).
BGCCIL provides character building activities and academic programs designed to deliver measurable outcomes and a safe environment with caring adults. For additional information visit http://bgccil.org.
About Springfield Urban League
The Springfield Urban League Inc., founded in 1926, is a nonprofit, nonpartisan, civil rights, and community-based movement that serves nearly 22,000 people annually. It provides direct services, research, and policy advocacy to assist individuals and communities in reaching their fullest potential. Networked with over 90 professionally staffed affiliates in more than 35 states across the nation, the Movement is spearheaded by the National Urban League, headquartered in New York. It works to close equality gaps for people at all economic levels and stages of life and gives citizens a chance to give back as volunteers. For additional information, please visit http://springfieldul.org
About Comcast Corporation
Comcast Corporation (Nasdaq: CMCSA) is a global media and technology company. From the connectivity and platforms we provide, to the content and experiences we create, our businesses reach hundreds of millions of customers, viewers, and guests worldwide. We deliver world-class broadband, wireless, and video through Xfinity, Comcast Business, and Sky; produce, distribute, and stream leading entertainment, sports, and news through brands including NBC, Telemundo, Universal, Peacock, and Sky; and bring incredible theme parks and attractions to life through Universal Destinations & Experiences. Visit www.comcastcorporation.com for more information
About Comcast Greater Chicago Region
With around 5,000 local employees, Comcast's Greater Chicago Region (https://chicago.comcast.com) serves customers in central and northern Illinois, including the Chicago area, northern Indiana and southwest Michigan. "Like" Comcast's Greater Chicago Region on Facebook by visiting @Comcast. "Follow" Comcast's Greater Chicago Region on Twitter at @ComcastIllinois.